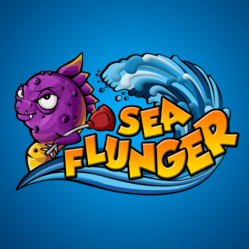 This game is not just for kids. I found it fun to play as well. You just need to control the plunger to catch the fish and get coins. The time is quite hard to master. Great little game. (Customer Review)
(PRWEB) April 13, 2013
Off-Road Studios is a 360 digital & creative design agency which creates websites, mobile applications and games, 2D/3D digital art and animations, HD videos, interactive installations and just about anything that takes advantage of digital technology.
Off-Road Studios has recently announced the completion of one of their latest mobile games for Iphone, iPad and Android. Sea Flunger, a fishing-themed mobile app, lets the player use their crossbow plunger to push nearby jumping fish back into the sea in order to receive gold coins. Collect enough coins to unlock all the Sea Flunger characters and defeat the game.
The internationally recognized 360 digital and creative design agency, Off-Road Studios, is a leading provider of a variety of digital content as well as integrated solutions. With the release of their latest mobile application Sea Flunger, the team has continued on the path of providing quality game design as well as popular kids' game. Kids need only tap out the fish to collect game currency to progress levels and unlock characters while avoiding icebergs that would freeze the fish in midair.
Once the player has unlocked all the Sea Flunger characters, the final challenge is to survive the ultimate fish frenzy, which developers have found to be enjoyable for both children and adults.
For more information about Off-Road Studios, their expertise and how their iPhone/iPad game development team can work for you, check out http://www.offroadstudios.com/contact or connect with them on Facebook or Twitter