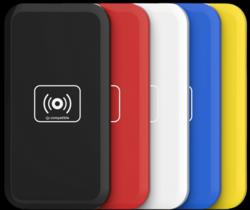 Qi wireless charging plate: 5V2A input and efficiency is over 70%
Shenzhen,China (PRWEB) April 13, 2013
Esorun announced the N7-Qi wireless charger today. The N7-Qi is a wireless charger for smartphones. The N7-Qi (pronounced "chee") is available to the general public as of today. As previously announced in the news, Esorun has put wireless charging at the front of their product line – they are aiming to be placed amongst the top brands in the wireless charging market within a couple of years. In the previous news announcement, the team leader of Esorun explained that wireless charging isn't one of those technologies people are aware of as far as how useful it is, unless they start using it.
This wireless charger is a used internationally – think of it like a USB for data-transfer. Many of the mobile phone manufacturers are already supporting the Qi standard – this includes Blackberry, HTC, Samsung and LG.
Additional Details about the Wireless Transmitter Mat:

Effective charging current (700 to 800 mAh)
Works with devices that support Qi standard
8mm maximum wireless distance
5W transmit power
UL/CE/FCC certifications compliant
Energy efficiency is 70%+
The Qi Wireless Transmitter Mat board size is: 145.7*79.3*8.5mm
The Qi wireless charger will allow users to work and keep their workspace clutter free. With this device, customer like the fact that they will not have wires in their way. As far as the charging points go, it has 1 wireless and 1 USB.
In other news, it has also been announced that Esorun planned on joining another organization in June. They will be joining the organization of WPC (wireless power consortium). WPC is the holder of Qi standard. Individuals who are interested in the Qi charger can go to Esorun.com in order to make the purchase.
About Shenzhen Esorun Technologies Co. Ltd.
Shenzhen Esorun Technologies Co. Ltd. is a top of the line technologies company that offers a wide array of iPad and iPhone accessories, and other gadget add-ons like the Qi Wireless charger, Power banks, wireless external hard drives, Bluetooth speakers and a lot more.