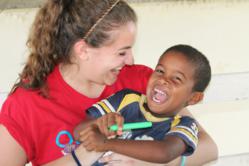 Outreach360 is a place where you can be yourself, find yourself and make a difference in others' lives. The impact that you make in these children's lives is something that will last forever in theirs! This is a place that you can truly communicate love.
Glendale, Arizona (PRWEB) April 13, 2013
Caminos, a new long-term volunteer internship program from Outreach360, the nonprofit service-learning organization, will offer meaningful, hands-on support for young children in the developing nations of Nicaragua and the Dominican Republic.
In Spanish, Camino means path or road, and in the Caminos Long-Term Volunteer Program, volunteers will play a crucial role in providing a path out of poverty for disadvantaged children in Latin America. Caminos volunteers will be working in the community to provide powerful and meaningful education programs that pave the way to a new life for the children Outreach360 serves. A life with options. A life of choice.
By fulfilling a critical role as teachers at the Outreach360 Learning Centers, Caminos volunteers will give children the educational opportunities they need to escape the limitations of poverty and to live a life they choose. In addition to teaching at the Learning Centers, Caminos volunteers will also support the Outreach360 Community Outreach Programs, and have the opportunity to take on leadership roles working with the on-site staff to support short-term volunteers.
"Long Term Volunteer Internships are becoming more and more popular," said Tom Eklund, founder and executive director of Outreach360. "Our new Caminos Long-Term Volunteer Internship Program is a great way to make a difference while learning about another culture."
Outreach360's mission centers on nurturing the dreams and aspirations of disadvantaged children. This mission is accomplished through character- and skill-building exercises that foster a sense of self-reliance, confidence and achievement. With this firm foundation in place, these children will have the necessary tools and mindset to overcome challenges that once seemed insurmountable. Ultimately, Outreach360 hopes to break the terrible cycle of poverty, one child at a time.
Volunteering with Outreach360 is both safe and affordable. It's not a requirement that volunteers know Spanish or have extensive teaching or training experience teaching but Caminos volunteers will be encouraged to work on their Spanish language skills while serving. Staff located in the participating countries coordinate all of the logistics for the volunteers, from housing and meals to transportation, insurance and health needs. Reliable management ensures that volunteers can concentrate on providing service and absorbing the sights and sounds of the local culture.
Past volunteers in similar Outreach360 programs have nothing but praise for the organization's mission. Many speak to the enriching and empowering aspects of volunteer work.
As a grassroots organization, Outreach360 depends upon the dedication and sacrifice of volunteers across Canada and the United States. Since its founding in 1994, more than 15,000 people have given their time and energy to the organization's mission. Charitable donations are essential to helping the organization forge ahead. Donors can contribute directly to one of several initiatives at http://www.outreach360.org/giving/. Ongoing needs include the construction of new neighborhood learning centers, as well funding for the day-to-day operations of existing learning centers.
About
Outreach360 is a world-class provider of international volunteer service-learning opportunities, meeting real needs in the communities it serves with the energy and resources of Outreach360 volunteers and donors. The focus is on children's education, and the cultural interchange between the international volunteers and the local communities is a significant outcome of the program.
Contact:
Bryan Linck, Associate Director
Outreach360
6611 W Robert E Lee Street
Glendale, AZ 85308
email: bryanlinck(at)outreach360(dot)org
phone: (602) 375-2900
http://www.outreach360.org