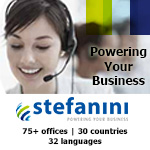 Southfield, Michigan (PRWEB) April 15, 2013
Stefanini, Inc. (http://www.stefanini.com), a global provider of IT infrastructure outsourcing, application development and integration, and strategic staffing, welcomes Brian McGushin as CA Practice Leader, where he will lead Stefanini's Global CA and Asset Management Practices.
McGushin brings more than 18 years of experience in the IT Services industry. Over his career, he has held leadership positions in Product Management, Sales, Practice Leadership at top, global IT companies including BMC Software and CA Technologies.
"My goal in joining Stefanini is to evangelize the complete solution we bring to our customers. Bringing together industry leading tools combined with our process best practices, delivered as a managed service enables customers to get all the benefits, cost savings and value of industry leading IT Services Management tools, while minimizing the investment and risks," says McGushin.
Stefanini is a returning sponsor to CA Technologies, CA World '13 event in Las Vegas, Nevada on April 21-24 (Booth 116). McGushin will participate in a breakout session describing how Stefanini hosted and managed CA tools deliver innovation, increased efficiency and cost savings to U.S. manufacturer Swagelok.
About Stefanini
Stefanini is a global IT outsourcing services company with 17,000 resources across 76 offices in 30 countries across the Americas, Europe, Africa, Australia, and Asia. Since 1987, Stefanini has been providing offshore, onshore and nearshore IT services, including application development services, IT infrastructure outsourcing (help desk support and desktop services), systems integration, consulting and strategic staffing to Fortune 1000 enterprises around the world. Clients benefit from Stefanini's financial stability, sustained year-over-year growth, and zero net debt. The corporate global headquarters is located in Sao Paulo, Brazil with European headquarters in Brussels and North American headquarters in metropolitan Detroit.