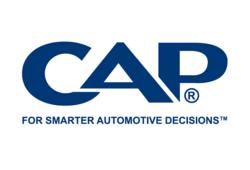 Other solution providers were considered, but careful assessment showed that Sage CRM offered the combined benefits of a comprehensive package that could be tailored to our exact requirements by a partner, Datel.
Warrington, England (PRWEB UK) 15 April 2013
CAP Automotive Limited is a leading supplier of technical and used vehicle information to motor trade professionals. In May 2012, a change of ownership and new investment prompted a migration to a new software platform that would support the company's growth strategy.
From a wide choice of potential solution providers on the market, CAP eventually chose Datel as the Sage Business Partner who would implement and support a 15-user Sage 200 Financials system. This went live in August 2012.
CAP's next step was to implement customer relationship management (CRM) software to manage interactions with customers across the UK and internationally and provide an efficient way to process new subscriptions and renewals.
For the second time, Sage was up against direct competition, as Marketing Director Matt Thompson notes: "Other solution providers were considered, but careful assessment showed that Sage CRM offered the combined benefits of a comprehensive package that could be tailored to our exact requirements by a partner – Datel – who had already delivered impressive results in helping us to make a smooth transition to Sage 200 Financials. Together, Datel and Sage CRM ticked all the boxes and we knew we would be in safe hands. Moreover, when we compared the total cost of ownership, Sage CRM clearly emerged as being much more competitively priced."
One of the chief goals of the new CRM solution will be to unify and share the knowledge of CAP customers that is acquired in the course of day-to-day business: "We want to capture and integrate our collective knowledge and insight and enable the whole CAP team to build on previous conversations. We need to understand customers' behaviour and preferences across the whole lifecycle and across all touchpoints. Everyone who has contact with a customer will be expected to record the interaction. "
Matt Thompson emphasises: "It's all about putting the customer at the heart of our business. We have an ambitious growth target of 20% this year. We cannot achieve this without delivering the care and service that our customers have every right to expect. Having the ability to draw on the knowledge stored in our corporate memory will help us to meet customers' needs with more targeted services."
The first phase of the CRM project is nearing completion: management of email marketing and campaigns targeted at prospects is scheduled to go live soon.
The Sage CRM solution is set to support a major new business development for CAP: the launch of new products for the consumer market to help potential buyers to understand the true long-term cost of owning a particular vehicle and whether a dealer's offer is a good one.
For Datel, sales and marketing director Jo Fulton comments: "We are delighted to be part of CAP's vision and to support the business as it reaches out to new markets. Work is now going forward both on-site and here at Datel to develop exactly the right CRM functionality for CAP's needs and to build a reliable platform of customer insight and corporate intelligence as a springboard for successful entry into the consumer market."
About CAP Automotive Limited
Established in 1979, CAP uses its knowledge and experience to help automotive businesses manage risk and increase profitability.
From its famous Black Book and monthly guides through to a suite of electronic toolkits and bespoke reports and market intelligence, CAP is the industry benchmark, providing accurate, reliable valuations and insight, with databases including used values, future values and new vehicle data.
About Datel
Datel is the leading Sage Business Partner in the UK, providing Sage consultancy, implementation and support for Sage 200, Sage Line 500, Sage ERP 1000, Sage ERP X3, Sage SalesLogix, Sage CRM and Sage Tax. Datel also offers its own innovative FUSION range, a suite of products that enhances and extends core Sage functionality.
Headquartered in Warrington, Datel also has offices in Leeds and the Netherlands, employing a loyal team of over 150 highly skilled people who look after its growing base of more than 900 customers worldwide.