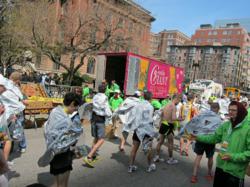 The Marathon is a natural fit for Gentle Giant Moving Company, as we have a highly athletic culture, love to compete, and spend every day running boxes throughout Boston!
Boston, MA (PRWEB) April 12, 2013
Gentle Giant Moving Company, an award winning local and long distance mover based in Massachusetts with offices across the country, today announced that it will act as the official mover of the Boston Marathon for the 17th consecutive year. Taking place on Monday, April 15, the 117th Boston Marathon requires the transportation and storage of supplies, food, beverage, signage, and athletic equipment for the approximately 30,000 participants and volunteers at the legendary road race. Gentle Giant will take on its traditional pre-race and marathon day role of planning and managing these logistics with the Boston Athletic Association staff.
The scope of Gentle Giant's work with the Marathon includes:

Loading more than 25 Gentle Giant trucks and delivery over 250,000 lbs. of Marathon goods and equipment, including thousands of pounds of food, supplies, equipment and water to the Boylston Street finish line
Set-up alongside Marathon volunteers beginning at 5:00 am on race day and ending with post-race consolidation and removals
Transportation of elite race wheelchairs to the starting line in Hopkinton
For each Boston Marathon, Gentle Giant Moving Company provides over 350 man-hours, starting weeks before the actual event, through to the close of race day, and days after. In addition to providing moving labor, several Gentle Giant employees will run the actual Marathon in Gentle Giant running uniforms.
Gentle Giant's Vice President and General Manager John Pacocha serves as the project manager for the annual event. He explains that the "Marathon is something we look forward to working on with the BAA every year. Despite the long work days for our movers, we really enjoy interacting with the public, the volunteers, and the remarkable athletes. It is truly a world class event."
Being heavily involved with and serving the Boston Marathon has become an annual tradition for Gentle Giant. "We are honored to be involved with it for the 17th year in a row," said Gentle Giant Founder and President Larry O'Toole. "The Marathon is a natural fit for our company, as we have a highly athletic culture, love to compete, and spend every day running boxes throughout Boston!"
ABOUT GENTLE GIANT MOVING COMPANY, INC.
Founded in 1980, Boston based moving company Gentle Giant is an award winning residential and commercial mover, offering local, long distance, and international moving services. Named 2009 Independent Mover of the Year by the American Moving and Storage Association, one of the Boston Business Journal's Best Places to Work in Massachusetts in 2004, 2005, and 2006, winner of the 2006 International Torch Award for Marketplace Ethics by the Better Business Bureau, winner of the Better Business Bureau's Torch Award for Excellence in 2002, 2003, 2005 and 2008, nine-time winner of Boston Magazine's "Best of Boston," six-time winner of The Improper Bostonian's "Boston's Best Moving Company" award, twelve-time winner of the Angie's List "Super Service" award, and 2007 Top Small Workplaces award from the Wall Street Journal and Winning Workplaces, the company's services include craning, piano moving, complete packing and unpacking services, and other related services. Gentle Giant offers storage facilities and dispatches crews from more than 19 offices in California, Massachusetts, New Hampshire, New York, North Carolina, Rhode Island, Virginia, Washington, DC and Washington State. For more information, please call (617) 661-3333 or visit http://www.gentlegiant.com