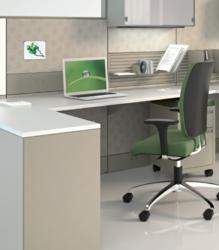 People often equate "green" with added cost. This does not apply to Evolve.
Memphis, TN (PRWEB) April 15, 2013
Yuletide has carried sustainable office and janitorial products for several years and the addition of the Evolve furniture system will offer an affordable answer for renewable office furnishing.
"We are super excited to share the possibilities of this great furniture line," said Chris Miller, President of Yuletide Office Solutions. "When we began stocking our showroom, we were faced with some difficult choices. Real estate was limited, but we were so impressed with the look and feel of this entire system, and the manufacturer's commitment to renewable materials, we knew we had to bring it in."
Evolve offers functional, attractive, and economic office designs that meet contemporary Greenguard and LEED standards. Companies looking to move towards sustainable furniture now have a budget-friendly option. Evolve is designed for the modern work space, while reducing waste in the manufacturing process as well as using recycled materials whenever possible. System layouts are completely flexible, lending it to address both private and collaborative work space needs.
"It's the greenest systems line on earth, but the price point doesn't reflect it," added Yuletide Designer, Melissa Pope. "You can get a sleek, tailored design that is eco friendly without hurting your wallet. With modules that can stack up to twenty-five feet high, your possibilities are endless."
Many business owners have expressed interest in sustainable furniture, however, there has a perception of high cost. At Yuletide, the design team is excited to quickly dispel those notions by showcasing a contemporary system that is not only produced with recycled products, but may also be recycled itself at its end of use.
"People often equate 'green' with added cost. This does not apply to Evolve," said Pope. "Stacked panel modules can be mixed and matched with glass, laminate, and fabric options. Private office or conference room without the expense of walls? Evolve can do that. Freestanding options? Evolve can do that."
"It's a beautiful, modern system for today's offices," continued Miller. "It's designed for sustainability from the materials it's made with to the packaging that it ships in. Not to mention a lifetime warranty. We knew our clients would be as excited about Evolve as we are."
Clients interested in learning more about the Evolve system, may visit Yuletide's showroom at 1235 Sycamore View Rd., Memphis, Tennessee 38134. Design and space planning assistance is available by contacting Yuletide's Director of Business Interiors, Deb Olswing, at 901-372-8588.
About Yuletide
Yuletide Office Solutions, one of the mid-south's leading business supply companies, offers one-source shopping for office supplies, janitorial products, office furniture, and printing. Founded in 1972, Yuletide is a third generation family owned business.