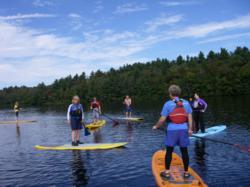 People are fishing, sprinting, and doing yoga on SUPs now and loving flatwater
(PRWEB) April 13, 2013
Stand Up Paddleboarding (SUPing) has been sweeping the nation as an exciting new way to explore, get fit and have fun. An accessible sport, it accommodates people looking for anything from a relaxing day of floating on a lake to an exciting run through big rapids. This year, Zoar Outdoor has added three course options for those looking to get into the sport.
For people with limited time or looking for a fun after-work activity, Zoar Outdoor has a mid-week evening course that runs for just a couple of hours. It's designed to teach people the basics so they can go out on calm water and play on the board. Since SUP boards can provide superb stability, paddlers can quickly get comfortable. Janet Burnet-Cowie, Director of Instruction Programs, says that the sense of stability can be enhanced by the paddler's stance on the board. "You can start on your belly, then move to your knees, then stand up. And then you can go back if you feel uncomfortable," she explains.
For beginner SUPers looking for more in-depth instruction, Zoar Outdoor is offering half-day courses where a small group of students goes out with one or two instructors to work on developing theirs skills. Paddlers head up to Sherman Reservoir for this clinic, and work on building a strong foundation in the sport, which allows them to explore more of the possibilities available with a SUP. "People are fishing, sprinting, and doing yoga on SUPs now and loving flatwater," says instructor James Sullivan.
Paddlers with previous SUPing and river experience can step it up a level with a river SUPing clinic. This course focuses on the skills needed to maneuver a SUP on moving water and through various types of obstacles. "It's a new way to make the river exciting," says Sullivan. "The challenge is back on river sections that have become easy; it's all about relearning something you're familiar with but in a new way."