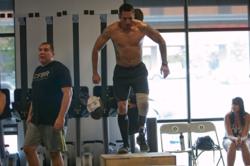 "The most important result of TP is the moment of awakening that happens in each participating soldier or adaptive athlete," said SEALFIT participant Kyle Maynard, "The moment when they realize they are capable of living the life they want."
SAN DIEGO, CA / SAN ANTONIO, TX (PRWEB) April 11, 2013
Transition Possible, a non-profit that supports wounded heroes, is partnering with San Diego based Fitness Company, SEALFIT to host the first ever Veteran Warrior Amputee Fitness Challenge of its kind. On Saturday, April 20, Navy SEALs will lead pairs of executive professionals and wounded warriors or adaptive athletes in a one and a half day SEALFIT inspired mental and physical training at Alamo CrossFit in San Antonio, Texas.
Commander Mark Divine, founder of SEALFIT, will lead the challenge along with four other Navy SEALs. Participants will be challenged both mentally and physically. On Friday, preceding the Challenge, Divine will speak to a group of business professionals coaching his Unbeatable Mind Academy Training, which focuses on mental toughness and development of the Navy SEAL mindset. Friday night's dinner will be held at Alamo Drafthouse – Park North from 6:30 – 8:30 p.m. Saturday is a full 12-hour event with a Team Endurance and Cognitive Event, a Row-Off with an Olympic Rower, and the SEAL inspired Adaptive Athlete Competition.
CEOs will be partnered with wounded veterans and adaptive athletes as a team through the challenge, with the CEO serving as a sponsor and support crew for his or her teammate. Participating athletes from San Antonio and cities across the nation with varying conditions from amputation to blindness will be taking part in the challenge. Participants include: Kyle Maynard, ESPY award-winning athlete and quadruple, congenital amputee; Corey Reed, an athlete injured in an accident sustaining complete blindness and amputation of one leg; local wounded heroes also taking part include Mike Gallardo, Nick McCoy, and Alex Leonard, among others.
Transition Possible creates awareness, inclusion and integration of wounded veterans into our community. All event proceeds will be used to provide opportunities for wounded veterans through adaptive sports, relative sport memberships, and sporting events. Additionally, funds will be used to provide a centralized online forum and network for wounded veterans, CrossFit affiliates, fitness facilities, trainers and coaches to access videos, pictures, articles and discussion boards on exercises and movement adaptations for individuals with amputations, functional limb loss or prosthetics. This event is made possible by sponsors like Concept 2, manufacturer of world class rowing products. Learn more at http://www.transitionpossible.org. View photos: http://bit.ly/10Cb3O9.
SEALFIT Training programs are inspired by authentic Navy SEAL trainings. They promise to shatter any preconceived notions of what one physically and mentally can/cannot do. Learn more at http://www.sealfit.com.
Press Inquiries? Contact Tiffany at (858) 224-2460 or tiffany(at)deliciousbuzz(dot)com.