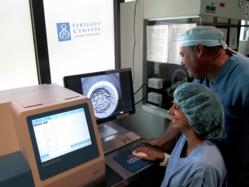 World's first live birth using previously frozen eggs cultured as embryos in the Embryoscope® Incubator System recorded by Fertility Centers of New England.
Reading, MA (PRWEB) April 11, 2013
The Fertility Centers of New England is excited to announce another milestone in assisted reproduction: the world's first live birth from embryos cultured in the Embryoscope® using previously frozen eggs.
Last year, the American Society of Reproductive Medicine (ASRM) released a revised statement on the clinical benefits of egg freezing for fertility preservation. This change established egg freezing as a viable clinical option for both cancer patients and women seeking to electively preserve their fertility.
The Fertility Centers of New England previously announced the first successful births in the United States following embryo culture using the Embryoscope® (Unisense/Fertilitech, Aarhus, Denmark) for both IVF and donor IVF patients.
"Our vitrification technique combined with the Embryoscope® and the most advanced low-O2 incubators are providing patients with the best possible embryo culture conditions and highest chance for success," said Medical Director, R. Ian Hardy, M.D., Ph.D.
One of the most technologically advanced and innovative devices available, the Embryoscope® is an IVF incubator with a built-in camera for automated time-lapse imaging of fertilized oocytes in a safe incubation environment. This technology eliminates the need to remove the embryo from the incubator, increasing the chance of pregnancy as there is no need to handle the embryo.
"We continue to be very proud that the Fertility Centers of New England is at the forefront of using this new technology," said Fertility Centers of New England President and CEO Joseph A. Hill, M.D. "The technological advancements in the embryology laboratory have remained a focus for the Fertility Centers of New England."
"The Fertility Centers of New England has been a leader in egg freezing using vitrification," said Chief Operating Officer, Brian Miller, Ph.D. "Unfortunately, egg freezing is still not a covered treatment option for the majority of patients requesting this service. That's why we offer egg freezing at a flat-rate of $5,000 for an all inclusive (minus medications) vitrification cycle."
The Fertility Centers of New England is proud to be at the forefront of advanced infertility treatment and for increasing access to care by providing the most affordable treatment options without compromising quality and results.
Fertility Centers of New England
The Fertility Centers of New England is an international leader in the evaluation, diagnosis, and treatment of infertility. We combine advanced reproductive technologies with a comforting, supportive environment to give patients the personal care they deserve. The Fertility Centers of New England has seven convenient locations for treatment and cycle monitoring throughout New England. We accept all insurance plans and offer a range of options for self-pay patients, including IVF, Donor and Egg Freezing Cycles. Patients interested in obtaining additional information about the Fertility Centers of New England and our services may call our center at 877-877-9901 or visit us at http://www.fertilitycenter.com.
Media Inquiries: Please contact Brian E. Miller, Ph.D. at millerb(at)fertilitycenter(dot)com or 781-942-7000 Ext. 631.