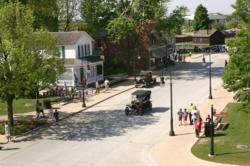 Dearborn, Mich. (PRWEB) April 11, 2013
Celebrate Henry Ford's 150th birthday with an unforgettable visit to one of his greatest legacies, Greenfield Village when it reopens its gates for the 2013 season on Monday, April 15. Enjoy the many seasonal offerings Greenfield Village has to share, along with special programs throughout the year honoring the life and legacy of our founder, Henry Ford.
Stroll through 300 years of history and journey into the sights, sounds and sensations of America's past that inspired Henry Ford. See what life was like for a young Henry when you step inside his birth home, explore the workshop where he built his very first motorized vehicle or take a ride around the Village inside his most famous invention- the Model T. New this summer, stop inside Miller School and experience young Henry's informal education and tinker with clock parts, machines and principles that challenged him.
The coming of spring brings new beginnings and activities to Greenfield Village. Visit Firestone Farm to see the newest additions to the barnyard family. Watch as costumed presenters hand-sheer the grown Merino sheep just as they did back in the late 19th century. Lend a hand at the Daggett Farmhouse in sorting, picking, washing, carding and spinning wool after the Merino sheep are shorn.
The first big weekend event of the season starts with a visit from Thomas the Tank Engine and friends as they roll through Greenfield Village for a Day Out With Thomas™: The Go Go Thomas Tour 2013. The train departs every 30 minutes, so there will be plenty of chances to take a ride with Thomas and participate in Thomas and Friends themed activities. Additional tickets are required for a train ride.
Admission to Greenfield Village is free with membership or $24 adults, $22 senior (62 and up) and $17.50 youth (5-12). Children four and under are free. For more information, call (313) 982-6001 or visit http://www.thehenryford.org.
About The Henry Ford
The Henry Ford in Dearborn, Michigan is an internationally-recognized cultural destination where stories and artifacts from 300 years of America's history bring to life the accomplishments of ordinary and extraordinary individuals alike. A national historic landmark with five unique venues, unparalleled collections and world-class expertise, The Henry Ford is a force for fueling the spirit of American innovation and inspiring a 'can-do' culture. Nearly two million visitors annually experience its attractions: Henry Ford Museum, Greenfield Village, The Ford Rouge Factory Tour, The Benson Ford Research Center and The Henry Ford IMAX Theatre. A continually expanding array of content available online provides anytime, anywhere access. The Henry Ford is also home to Henry Ford Academy, a public charter high school which educates 485 students a year on the institution's campus. For more information please visit our website thehenryford.org.
# # #