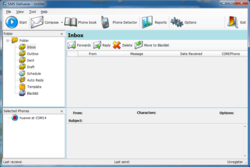 Use SMS as a Customer Marketing Survey Analysis Tool
xian,china (PRWEB) April 17, 2013
TJY Software has released SMS Deliverer v. 2.1, a Windows computer application that lets businesses send an unlimited number of text messages via SMS to customers and prospects. Unlike similar SMS applications, SMS Deliverer analyzes incoming SMS replies from customers, scans them for keywords, and provides valuable marketing information. In addition to providing low-cost SMS messaging to a large group of recipients, SMS Deliverer's automatic reply feature can send follow-up information to prospects based upon keywords in the SMS messages that they send back.
SMS Deliverer works with a Windows computer with a built-in modem. The software also supports a PC that is connected to a GSM phone and modem with a Bluetooth or USB data cable. Supported GSM phones include Nokia, Sony Ericsson, Motorola, Samsung, and LG. Android and Apple phones are not compatible with SMS Deliverer.
SMS Deliverer can send a series of SMS messages to business customers and prospects at specified intervals. This built-in scheduler supports the delivery of a multi-day or a multi-month sales presentation that reaches each prospect at the ideal time in the sales cycle.
The Enterprise version of SMS Deliverer includes support for multiple phones, a feature which is important to organizations that send emergency or other critical alert messages to subscribers. The Enterprise version also provides failover support. If a modem fails because of a hardware error or because its phone loses its charge, SMS Deliverer will switch to another phone and continue sending SMS messages. While the Standard version of the software works with Microsoft Access, the Enterprise version supports SQL Server and can handle more than one million contact names and SMS history records.
It is easy to personalize each outgoing SMS message, inserting information from the contacts database. SMS Deliverer supports long SMS messages of up to 1,000 characters per text message. Both 7-bit GSM and Unicode are supported, allowing businesses to send messages in any language.
Customer lists can be divided into groups, making it easier to target specific recipients with relevant messages. SMS Deliverer users can even turn incoming SMS messages into email messages, and forward them to any email inbox.
The reporting feature of SMS Deliverer shows which keywords are most common in SMS replies. The querying capability makes it easy to turn a huge file of data into a meaningful survey of customer marketing information.
SMS Deliverer has the tools to send SMS messages to prospects and customers who have requested more information about a product. The software also supports school administrators who want to alert parents about school closings or emergencies. Nonprofit administrators can use SMS Deliverer to send periodic messages to patrons and supporters.
The standard version of SMS Deliverer v. 2.1 provides single-phone support and costs $49(US) for a single-user license. The Enterprise version costs $99 and supports multiple phones. Multi-user discounts are available. The trial version is fully functional, but adds a link to the SMS Deliverer website to each outgoing SMS. For more information, or to download the trial versions of SMS Deliverer, visit http://www.smsdeliverer.com/.