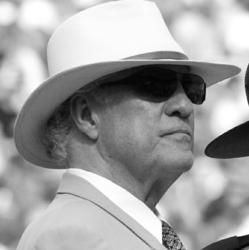 I enjoyed writing and performing "Pain and Gain - Retribution Song" almost as much as I enjoyed testifying in court as I stared down The Sun Gym Gang.
Miami, FL (PRWEB) April 12, 2013
Ed DuBois, the American private investigator of 'Pain and Gain' fame, is a part-time singer and songwriter who has released an original country rock tune titled "Pain And Gain." The single is being marketed on iTunes and CDBaby to coincide with Paramount Studios' release of a movie by the same name.
The accomplished private investigator, known for his savvy style, runs the oldest family-owned investigation agency in the United States. Approaching his 52nd year in the business, Ed DuBois has been dubbed "The Country's Best Detective" by his fans.
The song, like the movie, deals with a hair-raising mid-1990s crime case of DuBois' involving murder, mayhem and Miami's infamous Sun Gym Gang. DuBois, who has written over 100 songs and released two albums, recognized the big screen potential of most of the stories in his case library treasure-trove. He decided to test the waters with the Pain and Gain story. Based on the sensational public response, this will be the first in a series of many more stories to come from Ed DuBois. "I originally wrote the story Pain and Gain in collaboration with writer Pete Collins and that story has now become the movie Pain and Gain," states Ed DuBois.
The subtitle of "Pain and Gain" is "Retribution Song" which describes the anthem-like theme of the song, serving as an homage to real-life victim of the Sun Gym Gang, Marc Schiller, whose character is largely fictionalized in the film.
Directed by Michael Bay, the film 'Pain and Gain' features three-time Academy Award nominee Ed Harris portraying DuBois, who also puts in a cameo appearance as a Miami-Dade police detective.
How did a famous, big-city private investigator find time to write such music?
Musically inclined since his youth, the early passing of his wife and his own near-death experience in a plane crash shortly afterwards were catalysts to creativity. "Suddenly, songs started flowing out of me. When I didn't acknowledge them, they banged on the door of my psyche," says DuBois, looking back on trying times.
Recorded at Red Rock Studios in Miami, Florida, "Pain and Gain - Retribution Song" was written and performed by Ed DuBois. Clay Ostwald, the former band member of Miami Sound Machine and Tommy Anthony, guitarist for Santana, both liked the single so much that they joined in during it's final recording session.
About Ed DuBois
Ed DuBois is a songwriter, musician, a third-generation specialist in the field of security and investigations and President of the oldest, family-owned private investigation agency in the United States - Investigators, Inc. Since 1968, he has been the National Football League's Security Representative in Miami. Ed DuBois is known as "The Country's Best Detective" and has been the subject of many books, newspaper, magazine articles and news shows. DuBois is portrayed by three-time Academy Award nominee, Ed Harris, in the Paramount film titled Pain and Gain (2013) directed by Michael Bay and starring Dwayne Johnson and Mark Wahlberg. DuBois' latest single 'Pain and Gain - Retribution Song' was released on March 1, 2013. When he is not busy solving crimes, Ed DuBois can be found penning songs on the beach of his property on the island of Bimini, Bahamas.
About Pain and Gain
Pain & Gain is an action, comedy, crime film written by Christopher Markus and Stephen McFeely and directed by Michael Bay. The film is based on a 1999 series of Miami New Times articles surrounding the brutal kidnapping, extortion, torture, and murder of several victims by an organized group of criminals that included a number of bodybuilders. Two members of the "Sun Gym Gang," Daniel Lugo and Adrian Doorbal, received death sentences in Florida and sit on Florida's death row.