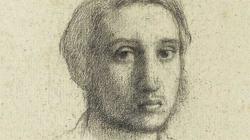 Draw lines, young man, and still more lines, both from life and from memory, and you will become a good artist
New York, NY (PRWEB) April 16, 2013
Edgar Degas (1834 – 1917), is famous for his work in painting, sculpture, printmaking and drawing. He is regarded as one of the founders of Impressionism although he rejected the term. He is especially identified with the subject of the dance and female nudes, through which he displayed his mastery in the depiction of movement.
Degas experimented with different media throughout his career. He mastered not only the traditional medium of oil on canvas, pencil and sepia drawing, but also pastel, etching (he was especially fascinated by the effects produced by monotype) and even photography. 
He never forgot the advise once given to him by Jean Auguste Dominique Ingres: "Draw lines, young man, and still more lines, both from life and from memory, and you will become a good artist", and drawing was always in the core of his artistic expression.
The dry medium of the pastel, which he applied in complex layers and textures, enabled him more easily to reconcile his facility for line with a growing interest in expressive color. These changes in media engendered the artwork that Degas would produce in later life: he began to draw and paint with strokes that model the form are scribbled more freely than before, backgrounds are simplified, giving way to an increasing abstraction of form.
The full version of Mighty Mack's Drawings: Degas App features 124 drawings by master Edgar Degas. This fantastic visual gallery has two sections: 68 drawings and 56 pastels, allowing the user to browse chronologically, enjoy the high quality images of Degas drawings, share them with friends and learn about the artist life.
This App is available for iPod Touch, iPhone and iPad. It's optimized for iOS6, retina display and iPhone 5 and allows the user to share images via email, Twitter and Facebook, or save them to camera roll (with no watermarks). Share the artist bio via email. Select your favorites. View the images one by one, or enjoy a slideshow.
Updates Include:

Optimized for iOS 6.1.3
Updated User Interface
New Splash Page
Requirements

iPad, iPod Touch or iPhone, with iOS 5.0 or higher
Wifi connection to download the app
An internet connection for sharing images via email, Twitter or FB (no internet connection required to view the App content)
--
Mighty Mack is a leading publisher of distinguished digital products for the consumer and professional markets. The Company leverages newly available digital tools to create, design, and share new ways of consuming information and experiencing the world around us. The company has released a variety of best-of-class Apps, including Advertising Today, Morpheus Dreams, Where2Boss?, Agora Briefcase, Film Today, among many others.
To learn more about Mighty Mack please visit their website at http://www.mightymack.com or email them to press(at)mightymack(dot)com.