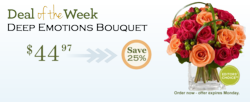 Atlanta, GA (PRWEB) April 12, 2013
Peachtree Petals, a recognized leading Atlanta florist specializing in premium floral arrangements and wedding floral decor services, announces the Peachtree Petals Daily Deal. The Daily Deal has been created in efforts to provide a greater variety of custom floral bouquet choices, improve customer loyalty and increase sales growth. Peachtree Petals pursues to be the best choice for floral services and floral decor nationwide.
The Peachtree Petals Daily Deal is located on the home page on their website. The Peachtree Petals Daily Deal is designed to offer undecided customers a satisfactory option for a premium floral arrangement. The Daily Deal is a custom-designed bouquet, made up of the most seasonal and freshest flowers Peachtree Petals has to offer. There are five price choices for the Peachtree Petals Daily Deal, ranging from $50 up to $200. A master florist will custom design the floral arrangement according to the value selected. It is the best deal for the money.
From roses and tulips, to hydrangeas and lillies, customers will receive a one-of-a-kind bouquet designed by a Peachtree Petals master florist. Customers can purchase the Daily Deal online or via phone. When placing online, customers are able to inform the florist of any specific requested flowers they desire within the arrangement and color schemes for the customized bouquet. For any special requests, clients can contact customer care and speak directly to a florist to discuss their floral needs.
The Daily Deal is an attractive and best selling bouquet because customers are able to purchase an original, custom-designed arrangement for their dollar value. This option promotes the Peachtree Petals website as being user friendly and increases order intakes online. The Atlanta florist also offers custom designed arrangements for customers that desire to purchase a bouquet for a price outside of the Daily Deal prices or even a higher dollar value.
Peachtree Petals is a recognized leader of superior floral arrangements and honored Master Florist throughout the US. Their floral designers have over 50 years of experience and create stunning floral arrangements. Peachtree Petals has its' very own staffed Atlanta floral wedding consultant to meet their clients' needs. Based in Atlanta, Georgia, Peachtree Petals services a growing list of clients, including company floral subscriptions and weekly floral services.