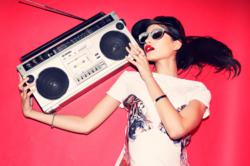 Manchester, UK (PRWEB UK) 13 April 2013
On Tuesday 26th March Missguided.co.uk held a 'house party' style press day in a rustic vintage venue in London, which has housed such recordings as 'The King's Speech', Kate Moss's sultry Agent Provocteur advert & Amy Warehouse's music videos.
The day was an opportunity for Stylists, Celebrities and Press to take a look at what the in-house Design team at Missguided have created for SS13. The main trends showcased were Monochrome, Sports Luxe, Festival Vibes, Holiday Shop/Ibiza style and Women's Bikinis at Missguided. The brand's first Premium range was also previewed, which included heavily embellished high quality separated and dresses which will be sold at a higher price point.
The Milenka jumpsuit, as recently worn by Nicole Scherzinger and the Addison Metallic bomber were the items most desired by the attendee's, with the Premium range also causing excitement. The rails were looked over by Rosie Fortescue, as well as the Stylists to Nicole Scherzinger and The Saturdays to name a few.
Social media was heavily embraced on the day, evident by the display of hashtag's around the venue, the guests being asked to give their Twitter handle upon arrival and Instagram being used to capture the unfolding activities throughout the day. A #selfiestation was included where photos could be taken in a large mirror and large touch screen computers were stationed so that the website could be accessed at any point.
A section was set up with thousands of studs, fabric pens, lace and retro patches so that visitors could customise a Missguided basic to take away with them. All of the press and stylists got involved and many pairs of denim shorts, oversized t-shirts and vests were studded up in an array of designs. This proved very popular with the fashion editors who were able to have total creative freedom and create a piece that could be their staple throughout SS13, with some stylists taking customised pieces away for their clients.
Meanwhile London Caterers, 'Check On' provided mini size snacks throughout the day; venison burgers, macaroni cheese, hotdogs and cocktails were all served on a silver platter whilst the guests chatted about the new collections and explored the venue.
When the sun went down, the house was converted into a party atmosphere, with a DJ spinning upbeat tracks whilst Kopparberg's were being chilled ready for the arrival of Missguided's loyal Bloggers.
Many of the bloggers wore Missguided pieces to the event, showcasing their love of the brand whilst they had a look at the new pieces and met the in-house team.
They were treated to a Model Dress-Up challenge; an opportunity for them to style up a hot Australian model in the latest Missguided pieces and then a mini-photoshoot took place – allowing the bloggers to have a peak into the world of styling.
The Customisation station was also a buzz of activity, with the girls sketching, studding and adding patches to pieces, many working together to create amazing designs whilst having a gossip and singing along to the DJ's tracks.
As the event came to a close, Twitter and Instagram were alight with talk of the night, images of favourite products or the styled model and mini reviews of the new collections.
About Missguided:
Missguided are one of the fastest growing online retailers of affordable fashion, from beautiful sheer blouses and knitwear to Missguided Maxi Dresses, day dresses, playsuits and womens swimwear. Missguided aims to bring catwalk and high street fashion to the masses, through competitive pricing and fantastic ranges of women's clothing and dresses onlinefor every single occasion.