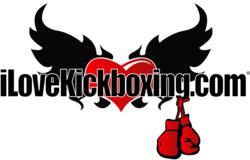 Fellow iLoveKickboxing.com members applauded and cheered.
New York, NY (PRWEB) April 12, 2013
February 23, 2013 was a unique class for fitness franchise iLoveKickboxing.com's Chelsea, NYC location. It started when kickboxing instructor Sam Gravesande demonstrated the importance of maintaining the punching bags. To demonstrate, he asked his then girlfriend (an iLoveKickboxing.com member) for assistance.
"This is what happens when you don't tighten your bag," Gravesande stated.
He then performed a "roundhouse kick" on a bag which he previously knew was broken. The bag immediately fell over. Beneath it lay a pair of hand wraps (fabric that protects the wrist and knuckles when boxing).
"What is this? I have no clue what it is," Sam stated and picked up the wraps.
He then unraveled them, and a box for a ring was exposed. He then knelt, and proposed. A crowd gathered around the two who embraced after Gravesande "popped the question". Fellow iLoveKickboxing.com members applauded and cheered.
"I did it during class because I wanted to do something unique, that she wouldn't expect." Gravesande stated. "And I love the atmosphere. You feel like you're with family at iLoveKickboxing.com."
Those interested in seeing the video can visit this link: http://www.youtube.com/watch?v=jSW3iGQASGM.
About: iLoveKickboxing.com is a fitness kickboxing franchise that takes the workouts of professional fighters, and makes them accessible for men and women looking to lose weight and tone muscle. Their program emphasizes the importance of community, fun and support for long-lasting results. Information on classes is available at http://ilovekickboxing.com. Information on the iLoveKickboxing.com franchise opportunity is available at http://myilovekickboxing.com.