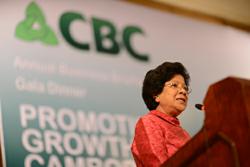 We are all starting to better understand that corporate responsibility, reliability and trustworthiness will be the characteristics of a country's banking sector that will hold the most value to investors in the future
(PRWEB) April 12, 2013
Speaking at the Credit Bureau's annual update meeting in Phnom Penh to an audience of 300 banking and investment professionals Her Excellency Neav Chanthana, The Deputy Governor of The Bank Of Cambodia addressed the audience stating that "The Cambodia Credit Bureau implementation has been held up as an example of a timely, thorough and well-executed implementation of a centralised credit reporting system internationally."
Credit Bureau Cambodia is a central database of credit information that helps banks and microfinance companies share their customer repayment histories. The CBC is a joint venture between the Association of Banks, Cambodia Microfinance Association and Veda Advantage the supplier of the Credit Bureau technology.
The CBC started its operations on the 1st of December 2011 and banks and Micro Finance organisations in the Kingdom were granted a 90-day grace period before they were required to complete connection to the system by law. It is now mandatory for all Banks and Microfinance companies to obtain a credit report on any loan applicant as part of the underwriting process.
Mr Garry Wood, The Chief Executive Officer of the Credit Bureau Cambodia Co Limited (CBC) stated during his speech: "In the past 12 months The Credit Bureau Cambodia has conducted over 1.7 million credit reports, and increased the average number of credit reports from 120 per day in 2012 to over 11,000 per day in 2013. The appetite for financial products in Cambodia is increasing, whilst at the same time the number of loans being approved based on accurate credit reports is growing. I am pleased to report that the Credit Bureau is stable, sustainable and delivering value to our members.
"With healthy and transparent lending and credit policies Cambodia is more appealing to external investors, loans are easier to come by and of course those people that are already in debt are protected from becoming over indebted."
Mr Antony Lythgoe the Head of Financial Infrastructure for the International Financial Corporation speaking at the event stated, "Inadequate access to formal financial services represents one of the most critical constraints to economic development in particular for rural and self employed households…. Helping customers understand the mechanics of a credit history has been proven to improve repayment behavior, allowing them in turn to access better credit terms, it also allows lenders to better calculate appropriate debt service ratios and thereby prevent customers from becoming over indebted.
"Making your first birthday in a credit reporting environment and having a functional bureau that is already adding value to all the stakeholders within just twelve months is indeed a creditable achievement."
Her Excellency Neav Chanthana stated during her address at the CBC's anniversary, "We are all starting to better understand that corporate responsibility, reliability and trustworthiness will be the characteristics of a country's banking sector that will hold the most value to investors in the future.
"We have made an important step; by improving the transparency of our credit system we have taken a step towards greater sustainability. Thanks to the CBC we are better equipped to cope with the inevitable increase in the pace of change in the years to come."
The CBC also announced today that it would start to place significant focus on corporate social responsibility with a number of campaigns aligned to education sponsorship for underprivileged children, children's road safety and children's sporting activities in Cambodia.
Her Excellency Neav Chanthana added, "The CBC are sponsoring a number of forward thinking initiatives within our community that assist the least privileged of our society.
"It is these qualities and commitments to corporate social responsibility combined with robust, responsible business practices that define our standing, reputation and trustworthiness among our peers on a global stage.
"I expect the CBC to take a leadership position in championing responsible lending and responsible and sustainable business practices within our community in the years to come."
Full transcripts and full videos of the speeches made at the event are available in English on the Credit Bureau Cambodia website. A video of the event is also available to be embedded and shared within the context of this press release on the CBC You Tube Channel.