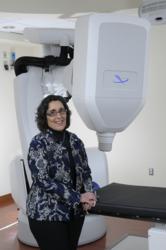 Our results are consistent or better than other studies of radiation or surgery for prostate cancer with five year follow up reported for patients treated with SBRT.
Havertown, PA (PRWEB) April 11, 2013
Newly published research from Philadelphia CyberKnife provides some of the most convincing evidence yet that stereotactic body radiation therapy is among the most effective types of treatment for prostate cancer.
Authors say that, while more follow-up is needed, the study shows SBRT's success rate is comparable to other treatments, including conventional surgery, which is often held as the gold standard treatment for prostate cancer. In addition, SBRT offered more convenient treatment and less risk of side effects like erectile dysfunction.
"Radiation oncologists believe the results with SBRT are equivalent to what you'd get from surgery or other forms of radiation, but there's never been a head-to-head comparison," says Dr. Rachelle Lanciano, chief of radiation oncology at Delaware County Memorial Hospital, who co-wrote the study. "This is another piece of the puzzle showing that SBRT works, the toxicity is low, and the outcomes are very good."
Prostate cancer affects about one in six men and is the second-leading cause of cancer death among men. Besides SBRT and surgery, patients can choose brachytherapy, in which small radioactive seeds are implanted in the prostate, or IMRT, another type of radiation therapy.
IMRT destroys prostate cancer cells with low-dose per fraction radiation generated by a linear accelerator which rotates around the patient usually in a single plane. IMRT involves about 40 daily radiation treatments over the course of eight weeks.
Alternatively, SBRT destroys prostate cancer cells with high-dose per fraction radiation in five treatments and is delivered by a radiosurgical system like the CyberKnife®. This advanced technology is comprised of a compact linear accelerator attached to a robotic arm that moves around patients during treatment with virtually unlimited mobility, targeting tumors with much greater precision and minimizing damage to healthy tissue.
The study, "Stereotactic body radiation therapy for the primary treatment of localized prostate cancer," appeared in the March 2013 issue of the Journal of Radiation Oncology. Researchers tracked the outcome of 70 men treated with SBRT. The results "support the growing body of literature indicating SBRT for prostate cancer is effective and well tolerated," the study concluded.
Dr. Lanciano said the results offer hope especially for men who don't want surgery or can't undergo it because of other health problems. It also offers an alternative radiation option to IMRT or brachytherapy. In addition, she said SBRT carries a lower risk of erectile dysfunction. For SBRT patients who do experience erectile dysfunction in the Philadelphia CyberKnife experience, the condition was corrected with medication, she said.
Dr. Lanciano also said men are likely to find SBRT more convenient. It's noninvasive, meaning no cutting or anesthesia is involved. The treatment also requires much less time to complete. While other forms of radiation therapy require daily treatments for up to eight weeks, SBRT is completed within five treatments over one week.
"Our results are consistent or better than other studies of radiation or surgery for prostate cancer with five year follow up reported for patients treated with SBRT. A randomized trial is currently underway to compare outcomes of SBRT with surgery and conventional radiation," Dr. Lanciano said.
In addition to the recently published prostate cancer study, Philadelphia CyberKnife researchers are currently finalizing studies on lung, brain and gynecological cancers, while others are in earlier stages of research.
Philadelphia CyberKnife is a service of Delaware County Memorial Hospital, a member of the Crozer-Keystone Health System. The center is located off the hospital's main campus at 2010 West Chester Pike in Havertown, Pa. For more information, call (610) 446-6850.