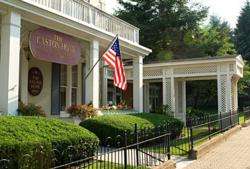 The antiques fair evokes memories that our seniors enjoy. It's a great way to engage our residents and our local community.
Easton, Pennsylvania (PRWEB) April 12, 2013
The Easton Home, a Presbyterian Senior Living personal care community, today announced that its annual antiques appraisal fair will be held on Wednesday, April 24th. The event, open to the Easton and greater Lehigh Valley communities, will take place at the historic Victorian mansion on Northampton Street in Easton.
For the twelfth year, staff at The Easton Home will bring in an antiques expert to help community members determine the value of their antique items. This year's event will feature auctioneer Ray Hartzell of Hartzell's Auction Gallery in Bangor, Pennsylvania. He will be on hand at The Easton Home to offer appraisals of antiques, collectibles, and fine art. Refreshments and tours of the historic Easton Home will also be available during the fair. Antiques are featured throughout The Easton Home's décor, including a 1940s era kitchen and living space in Chapelwood, its specialized memory care unit.
"Our residents and community look forward to this event every year, and we thank Ray and Hartzell's Auction Gallery for being great partners in making it happen," said Paul Cercone, Campus Administrator at The Easton Home. "The antiques fair evokes memories that our seniors enjoy. At the same time, community members relish the opportunity to bring in cherished items for appraisal. Everyone learns something, and we all enjoy looking back into history together. It's a great way to engage our residents and our local community."
Founded in 1890, the Easton Home is currently home to 53 senior residents. The Easton Home offers comprehensive services and accommodations for residents that include traditional personal care, Alzheimer's care, and respite care as well as physical, occupational, and speech therapy.
Hartzell's Auction Gallery is a family owned and operated business. Since 1943, four generations of the Hartzell family have served the antiques and collectibles industry in Pennsylvania and surrounding areas.
The 12th Annual Antiques Appraisal Fair will take place Wednesday, April 24th from 1:00 to 3:00 p.m. at The Easton Home on Northampton Street in Easton, Pennsylvania. The Easton Home will also host a concert featuring The Saddletones, a country, Western swing, and rock-and-roll band on May 19, 2013 at 6:00 p.m.
About Presbyterian Senior Living
Presbyterian Senior Living is a not-for-profit organization, providing retirement and senior care services for more than 80 years. Headquartered in Dillsburg, Pennsylvania, Presbyterian Senior Living provides services to more than 5,400 seniors in 29 locations in the mid-Atlantic region of Pennsylvania, Maryland, Ohio and Delaware. Presbyterian Senior Living has in recent years earned a reputation for developing and successfully operating well-designed, service-rich, affordable senior housing communities. A priority of the organization is to provide older adults with the resources they need to remain active members of the greater community while enjoying as much quality of life and independence as possible.