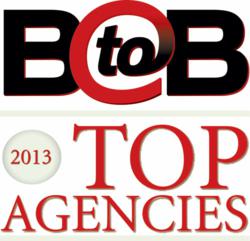 Tampa, FL and Denver, CO (PRWEB) April 13, 2013
Interactive marketing agency, Bayshore Solutions, was listed in BtoB Magazine's Top Agencies List 2013. For the past nine out of ten years, and last seven consecutive years, Bayshore Solutions has received the honor of being listed among the top US Digital agencies by B2B marketing magazine.
To compile the list of top agencies, BtoB surveyed agencies nationwide through an online entry in early December 2012. The Top Agencies report includes four categories: small agencies, midsize agencies, large agencies and interactive agencies. The finalists in each category were selected based on percentage of total business that is B2B, revenue growth, new client wins, innovative work and expanded service capabilities.
Bayshore Solutions was listed among 150 top agencies by BtoB Magazine, a trusted business resource that communicates to senior marketing executives charged with developing an integrated B2B marketing plan for their companies. These are the marketing decision makers on products, services and technologies that will work best in their company's marketing plan.
"Spurred by continued economic growth, as well as political and Olympic advertising, B2B agencies had a strong year in 2012 – increasing their revenue, adding new business and developing compelling work for clients," said Kate Maddox, Executive editor of BtoB Magazine and BtoBOnline.com.
"Bayshore Solutions is proud to be recognized on such a renowned list," said Kevin Hourigan, President and CEO of Bayshore Solutions. "Key to the outstanding growth that assisted Bayshore Solutions in achieving this honor was the opening of our Denver office in October 2012 to better serve and generate new clients in the US Mountain and Pacific West region."
To read more about BtoB Magazine's Top Agencies List 2013, please visit: http://www.bayshoresolutions.com/portfolio-home/bayshore-solutions-awards/2013/top-agencies-list-2013-btob-magazine.aspx.
To read more about Bayshore Solutions' awards, visit: http://www.bayshoresolutions.com/portfolio-home/bayshore-solutions-awards.aspx.
About Bayshore Solutions
Web design, development and digital marketing agency Bayshore Solutions, offers award-winning capabilities in custom web design, website development, e-commerce and Internet marketing. Founded in 1996, the web site design company has delivered custom web applications and interactive marketing services throughout the USA and internationally. Headquartered in Tampa, the firm has a full web development and Internet marketing delivery team located in its Denver, Colorado office and physical offices accessible to Orlando, Miami, Fort Lauderdale, Dade County and Broward County in Florida. Bayshore Solutions integrates technology and Internet marketing services to ensure measurable results for clients. For more information about Web site design and Internet marketing services visit http://www.BayshoreSolutions.com.
# # #