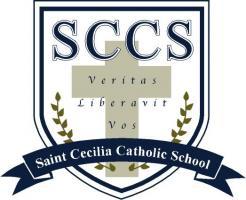 Strong academic performance by Cecilia Catholic School Students is becoming a hallmark of the small school.
Bainbridge Island, WA (PRWEB) April 16, 2013
It seems that the middle school population of Bainbridge Island, Washington is raising the bar with their recent academic accolades.
With a Letters about Literature winner, 7 Letters semi-finalists, and a NASA essay writing contest winner the recognition has put these middle school students in the spotlight.
Colleen Campbell, 8th grader at St. Cecilia Catholic School, is one such middle schooler. In the past two years Colleen has been awarded both a 3rd place finish for her work in Cellular and Molecular Biology and a 1st place finish in physics at the Washington State Science and Engineering Fair. In addition to her performance in science, Colleen was one of the semifinalists in this year's Letters for Literature contest in which she wrote to Khaled Hosseini, Author of the Kite Runner.
Her letter was so impressive that her teacher took it home and shared it with her own book group. Most recently Colleen won an American Legion essay contest on her favorite freedom.
Strong academic performance by St. Cecilia Catholic School students is becoming a hallmark of the small school. In the graduating 8th grade class every student who applied to a private school was accepted. Two of the students placed in the top 3 on the entrance exams for Top Seattle private schools. Campbell was accepted to two schools and has chosen to attend Forest Ridge, where she is looking forward to continuing her academic successes.
For additional information and media inquires please contact:
The RockFish Group
Kelle Kitchel-Cooper, Director of Development
Phone: (360) 774-0431 | Kelle(at)RockFishGroup(dot)com