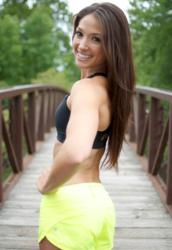 Bryan, TX (PRWEB) April 11, 2013
Cellucor today announced the signing of bikini competitor and spokesmodel Karina Baymiller. Karina will join teammates Craig Capurso, Jen Jewell and Cellucor's own Daniel Lourenco and Colton Leonard as a major contributor to the all-new Cellucor.com website that is set to launch in the coming months.
Karina burst onto the fitness scene last year after being honored as one of Bodybuilding.com's top body transformations. Since that time she has used her unbelievable success story to inspire others, adding another undeniably positive and approachable personality to the Cellucor team.
The Cellucor signing is the latest highlight in what's already been a huge year for Karina. Baymiller took second in the prestigious 2013 Bodybuilding.com Spokesmodel contest, a title she beat out thousands of entrants to win, and also recently signed with Bodybuilding.com as a Team Athlete.
"We're really excited to welcome Karina to the team," said Cellucor VP Daniel Lourenco. "She is an unbelievable girl who has a story that will truly resonate with our fans. Karina has a winning personality that will both teach and inspire…and don't let her looks fool you, she's a fierce competitor, a crossfit and strength athlete who's not scared to lift some serious weight."
This news comes in the middle of an exciting few weeks for Cellucor. The past month has seen the brand debut a new expo booth at the Arnold Expo, reveal the new M5 Reloaded™ and officially announce the long awaited return of P6 Black™.
"It's a great time to be a part of Team Cellucor and Cellucor Nation. We had a monumental year in 2012, and we are setting our sights even higher in 2013. The new Cellucor.com is unlike anything seen in this industry, an unrivaled information, shopping and customer service destination. We just launched new flavors of COR-Performance Creatine; P6 Black and M5 Reloaded hit shelves any day and new flavors of the COR-Performance Whey are on their way…I could go on forever, but all our fans really need to know is that this is just the beginning."
Fans of both Cellucor and Karina Baymiller can look forward to several upcoming collaborative projects including Cellucor.com and Bodybuilding.com training videos and articles.
Connect with Karina via her Twitter or Facebook Fan page for giveaways, training and nutritional insight, and the latest Cellucor and Bodybuilding.com happenings.
Cellucor products can be found at GNC, Bodybuilding.com, and select retailers internationally. For more information on the upcoming new Cellucor Website Launch and new Cellucor products, visit Cellucor.com or connect with the company on Facebook or Twitter.