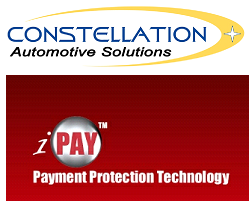 Sarasota, FL and Temecula, CA (PRWEB) April 12, 2013
Lender Systems, one of the industry leaders for payment protection technology, and Constellation Automotive Software, a leading developer of software applications for independent automotive dealerships, have announced a new integration between their products.
Through this integration, Constellation delivers the ability for software clients using its MSP software along with Lender System's iPay payment assurance devices to process payments in one simple transaction. Users will be able to process their customer's payments and generate the codes required to program their iPay device in one step. No longer will dealers using the two systems be forced to double enter data into each system, cutting payment processing time in half.
"We are excited to partner with Lender Systems, one of the leading providers in the payment assurance industry. Their solutions provide additional security and peace-of-mind for our dealer clients, often at a lower cost than they are currently incurring," said Alan Mosher, General Manager of Constellation Automotive Software. "Our clients can save time and money with our integration, and saves our customers valuable time processing each payment. It truly is a win-win for all parties involved," he continued.
This partnership affirms Constellation's commitment to differentiate their software through technology innovation by giving users access to a revolutionary suite of products and services that provide its client dealerships the highest level of tools to maximize dealership operation.
David Sailors, Executive Vice President of Lender Systems added, "We're delighted to offer such a comprehensive integration between our products and Constellation's MSP software product. The result is an extremely versatile, tightly integrated solution that will allow our mutual clients the most technologically advanced system to collect their outstanding loans while minimizing collection expense and charge-off."
About Lender Systems
Lender Systems, Inc. is an international company focusing on asset protection, management and tracking. Its proprietary systems and solutions are used to secure and manage the sub prime auto loan portfolios of both buy-here-pay-here auto dealerships and financial institutions. Its asset protection systems secure the multi-million dollar inventories of automotive dealerships, credit unions and other types of financial institutions. Technology provided by Lender Systems, Inc is currently protecting more than $2 billion in auto loan portfolios and has been serving the industry for more than 18 years. Lender Systems, Inc is committed to delivering differentiated value to customers and partners through its unique product and service offerings, while closely mapping products and solutions to its customers' needs and priorities-such as asset securitization, productivity, cost savings and return on investment.
Learn more at lendersystems.com.
About Constellation Automotive Software
Constellation Auto is a leading provider of software to independent automotive dealerships. Their products are flexible enough to meet the needs of any single or multi-lot dealership. Constellation Automotive Software is a part of the Constellation Dealership Software Group which provides a suite of market leading software products designed specifically for dealerships. Over 1,000 dealerships across North America rely on one their products to make their dealership more successful. They are a wholly-owned subsidiary of Constellation Software Inc., the premier international provider of vertical market software, with offices and customers in over 30 countries, generating consolidated revenues in excess of US $800 million. Publicly traded and comprising over 20,000 customers, CSI has a mission to acquire, manage and build an exceptional and diverse portfolio of companies, selling software products to help customers achieve their goals and objectives.
For more information, visit http://www.constellationauto.com
Media Contacts:
David Sailors
Lender Systems, Inc.
951-693-2700
dsailors(at)lendersystems(dot)com
Alan Mosher
Constellation Automotive Software
800-654-4955
amosher(at)constellationauto(dot)com