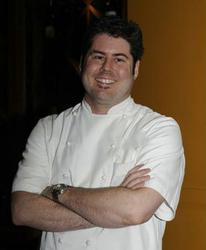 Greenwich, CT (PRWEB) April 11, 2013
Morello is pleased to announce the appointment of Kevin Garcia as Executive Chef. Chef Garcia brings more than two decades of renowned, culinary experience to his new role. At Morello, situated in the heart of Greenwich Avenue, Executive Chef Garcia offers guests an elevated menu of Italian cuisine inspired by regional simplicity and seasonality.
Chef Garcia said he is thrilled with the opportunity to work at Morello, part of the award-winning MARC (Marlon Abela Restaurant Corporation) international collection of restaurants, which include A Voce Madison and A Voce Columbus in New York City.
"Morello is the type of restaurant that food and wine connoisseurs love," said Garcia. "Guests can come here to savor a wonderful dining experience, and be completely wowed by the spectacular space, ambiance and service. I am pleased to offer our guests a menu inspired by three of my favorite regions in Italy: Rome, Tuscany and Sicily."
Morello is located within an historical landmark building designed by Rafael Guastavino Jr., featuring interior tiled arches and vaulted ceilings with skylights. "It is the perfect setting for intimate and grand affairs," added Garcia.
Jimmy Branigan, Morello General Manager said Garcia's strong background at high-end restaurants would further enhance the dining experience at Morello, adding "Chef Garcia's experience and creativity will take Morello's culinary offerings to new heights."
A graduate of the prestigious Johnson & Wales University, Garcia quickly rose up the ranks in several kitchens across the country. He honed his culinary skills in restaurants like Jean Georges Vongerichten's Prime Steakhouse at the Bellagio Hotel and Casino (Las Vegas, NV), which he joined in 1998 followed by Drew Nieporent's Myriad Restaurant Group's Lucca at the Boca Raton Resort and Club (Boca Raton, FL) in 2000.
Jumping at the chance to join Mario Batali's Lupa, Garcia returned to New York in 2003. Two years later, he joined the opening team of Del Posto as chef di cucina where he developed the restaurant's menu alongside Chef Mark Ladner. Having worked with Batali for three years, Garcia credits him with teaching him how to be, "authentically Italian and to respect the culture and tradition of regional Italian cuisine."
In 2006, Garcia was sought out to take over as executive chef at 'Cesca where he was responsible for maintaining the restaurants' level of excellence and their authentic Italian menus.
In addition to his love for the flavors of Rome, Tuscany and Sicily, Chef Garcia also plans to incorporate local ingredients into dishes whenever possible.
Morello Italian Bistro is located at 253 Greenwich Avenue, Greenwich, Connecticut. The restaurant serves lunch Monday–Friday 12:00pm-4:00pm and dinner Monday–Thursday 4:00pm- 9:30pm, Friday–Saturday 4:00pm-10:30pm and Sunday from 4:00pm-9:00pm. Brunch is served on Saturdays 12:00pm-4:00pm and Sundays 11:30am-4:00pm. Reservations are accepted and can be made by calling (203) 661-3443. For additional information, please visit http://www.morellobistro.com.