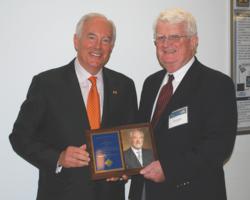 Worcester, PA (PRWEB) April 12, 2013
"Ross has been a significant supporter of our program over the years, especially with the addition of the Lecture Series they fund each year," said Robert Wm. Muir, Jr., Ph.D., P.E., director for Drexel's Construction Management program. "He has lead American Infrastructure to be a cutting-edge heavy construction firm where safety and ethics are hallmarks for the company. His approach to management is progressive and the uncompromising dedication to uphold high values throughout the organization comes from Ross himself. This Lifetime Achievement Award is well deserved for what Ross has done to grow his company, his contributions to Drexel and the community and his efforts to improve the construction industry."
"Being included in the same company as the past awardees and recognized by the distinguished members of the CMAC is a tremendous honor," said Mr. Myers. "Drexel has an impressive Construction Management program dedicated to educating tomorrow's leaders in our industry and American Infrastructure is proud to be a partner in helping to prepare these students for the future."
Mr. Myers became president of the family business, then known as Alan A. Myers and Son, in 1983. Now known as American Infrastructure, the company has grown to 1,800 employees under his direction and has earned industry-wide recognition for its progressive and innovative management, well-trained and highly skilled workforce, award-winning workplace safety programs, and consistently high levels of customer satisfaction.
In addition to his involvement with Drexel, Mr. Myers sits on the Advisory Board at Virginia Tech and co-founded the Myers-Lawson School of Construction at the University. He is also an active supporter of many regional and national charitable organizations and is on the board of directors of New Life Youth and Family Services. In 1986, he established a fund honoring his father, Allan C. Myers, for students of Montgomery County Community College and to date, nearly 250 scholarships have been awarded, all from private donations raised by the Myers family.
About American Infrastructure
American Infrastructure is a vertically integrated, heavy contractor and construction materials supplier that performs work throughout the Mid-Atlantic region, with offices in the Philadelphia; Baltimore; Washington, D.C.; and Richmond markets, as well as five satellite offices from Pittsburgh to Williamsburg. The company also presently has 15 materials mining and/or asphalt production facilities in four states. Presently, employing 1,800 people, American Infrastructure is ranked by Engineering News-Record at number 25 on the country's Top 50 heavy civil contractors. For more information, visit http://www.americaninfrastructure.com.
###