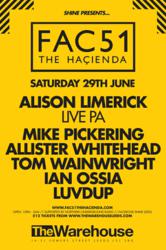 On Saturday 29th of June, expect nothing but excellent music, from a Funktion One sound system, with electrifying lasers, lighting, strobes, smoke machines, visual backdrops & exciting projector screens
(PRWEB UK) 12 April 2013
Across two North of England cities with distinguished clubbing connections, Leeds promoters SHINE join up with The Haçienda for FAC51's return to The Leeds Warehouse on Saturday 29th June for an all nighter that sees Alison Limerick perform alongside a whole gallery of The Haçienda's and SHINE's finest DJs across two rooms.
A legendary setting for the late Eighties and Nineties clubbing in Leeds, The Warehouse, like The Haçienda, came to have a formidable reputation across the scene, and from then onwards both Leeds and Manchester have often combined on special events in both cities and The Haçienda Leeds on the last Saturday in June continues this today.
The DJ line up is rightly headed by the pioneering Mike Pickering back at The Warehouse where he last played for Soak some twenty years ago in the city. Joining Mike are the soulful talents of Alison Limerick, whose 'Where Love Lives' and 'Make It On My Own' remain classic today and Alison will be performing a PA on the night.
The Haçienda's reputation stands as one of the most influential clubs in history and set many DJs on their way to success, so Shine have brought together many of the legendary players who graced the club in its heyday including Allister Whitehead, Tom Wainwright, Ian Ossia and Luv Dup.
SHINE promoter Micky commented:
"On Saturday 29th of June, expect nothing but excellent music, from a Funktion One sound system, with electrifying lasers, lighting, strobes, smoke machines, visual backdrops & exciting projector screens, generating an atmosphere which will stand long in your memories for the years to come."
Room Two at The Warehouse, commonly known as "The Loft" is thrown over to Shine who bring the cream of the Leeds crop to the event including local legends Graham Dixon and Mark Holliday who will play their renowned 1990 Kaos / Ricky's style set. Graham and Mark will be accompanied by Shine's accomplished residents, Garry Dabill (Up Yer Ronson), James Noon (Haçienda, Shine) and Jamie Richardson (Shine). James and other Shine residents will be announcing a promo mix in the coming weeks ahead of the all nighter.
Advance tickets are £8 Earlybird / £12 Standard and available from theleedswarehouse.com.
Ticket Stockists:
The Warehouse, Crash Records, Jumbo Records (Leeds), Ticket Arena
**********************
FAC 51 The Hacienda & Shine Present
The Haçienda Leeds @ The Warehouse
Saturday 29th June 2013 / 10pm to 5am
The Warehouse
SHINE on Facebook https://www.facebook.com/pages/Shine/131887206915054
**********************
Advance Tickets - £8 Ltd Earlybird / £12
Line-up:
MIKE PICKERING
ALLISTER WHITEHEAD
TOM WAINWRIGHT
IAN OSSIA
LUV DUP
Graham Dixon
Mark Holliday
Garry Dabill
James Noon
Jamie Richardson
The event can be found on Facebook here http://www.facebook.com/events/170588899762367/