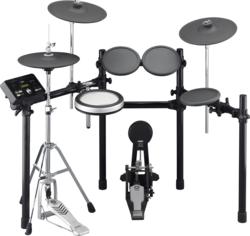 "There's a lot more than meets to eye involved with this upgrade and drummers will be impressed when they get behind these new kits," said Athan Billias, Director of Marketing, Yamaha Corporation of America, Pro Audio & Combo Division.
Hamburg , Germany (PRWEB) April 14, 2013
Yamaha premieres its completely revamped DTX-502 electronic drums at Musikmesse 2013. Based on the award-winning DTX-PAD, the new kits boast numerous innovations, including newly designed tom pads, a lighter-weight steel rack and a brand new drum trigger module that is more powerful than anything else in its class.
With almost twice the wave ROM and more than 250 additional sounds than the previous model, the new DTX502 drum trigger module is the first to incorporate drum and cymbal samples from top VST developers that have been optimized for DTX by Yamaha's sound engineers. For truly customized sounds and songs, the system lets users import audio samples and MIDI files for further expandability. During the development phase, Yamaha created proprietary laser technology to analyze drum strokes and precisely tune the trigger settings, so that the playing experience on each of these sets provides a more natural feel. It also includes advanced features from the higher-end DTX models such as cymbal muting, natural swells and smoother snare drum rolls.
"Most of the changes to the new DTX502 series can't be seen but they can be heard and felt," said Athan Billias, Director of Marketing, Yamaha Corporation of America, Pro Audio & Combo Division. "There's a lot more than meets to eye involved with this upgrade and drummers will be impressed when they get behind these new kits."
The new DTX502 module has a streamlined front panel layout that puts the most-used features at your fingertips, and features plug and play USB connectivity for easy interfacing with a computer. The new design allows the DTX502 to be easily mounted to acoustic drum hardware using a standard multi-clamp (such as the Yamaha CSAT924A) for use in a hybrid acoustic-electronic drum set.
The DTX502 series includes new training and educational functions for drummers to improve their playing, no matter one's current skill level. With eight practice routines that help develop rhythmic timing, pad accuracy and drumming endurance, the system calculates a score after each session so that drummers can track their progress.
The DTX522K, the most affordable model in the series, includes the three-zone XP80 8" DTX-PAD snare and three newly designed TP70 7.5" tom pads. The new TP70 pad is softer and quieter, yet more expressive than the previous model. This kit, which comes with three-zone, choke-able ride and crash cymbals, showcases another technological advancement in electronic drumming – the Yamaha DTX522K is the first electronic drum kit ever to feature a three-zone hi-hat pad. The new RS502 rack system uses steel pipes to offer solid performance and flexible setup options in a lightweight package.
The next kit in the lineup, the DTX532K, uses the same drum pads and rack system as the DTX522K but features an upgraded hi-hat and two large PCY135 13" three-zone choke-able cymbal pads. The RHH135 vertical motion hi-hat pad, which mounts to the included Yamaha HS650A hi-hat stand, provides a setup that more closely matches an acoustic kit.
The top model in this series is the new DTX562K, which includes the large cymbals and real hi-hat pad, upgrades the toms to an all-DTX-PAD configuration with three XP70 7" pads so that playing the kit feels comfortable for even the most demanding acoustic drummer.
Yamaha designed its innovative new DTX-PAD with input from the company's legendary roster of drum artists. The Textured Cellular Silicone head features a proprietary manufacturing process that introduces small air bubbles into foamed silicone to provide playability and feel unlike any pad introduced to market. With years of designing and building some of the world's finest drums, Yamaha DTXdrums' new series of instruments lets drummers express their passion for rhythm just as they can on an acoustic kit. Whether for quiet practice, live performance or recording applications, the new DTX502 series is the perfect solution for the modern drummer.
The new DTX562K (MSRP: $2,637), DTX532K (MSRP: $1,732), and DTX522K (MSRP: $1,507) are expected to ship in June 2013.
For more information, write Yamaha Corporation of America, Pro Audio & Combo Division, P.O. Box 6600, Buena Park, CA 90622; telephone (714) 522-9011; e-mail infostation(at)yamaha.(dot)com; visit http://www.yamahadrums.com.
# # #
About Yamaha
Yamaha Corporation of America (YCA) is one of the largest subsidiaries of Yamaha Corporation, Japan and offers a full line of award-winning musical instruments, sound reinforcement and home entertainment products to the U. S. market. Products include: Yamaha acoustic, digital and hybrid pianos, portable keyboards, guitars, acoustic and electronic drums, band and orchestral instruments, marching percussion products, synthesizers, professional digital and analog audio equipment, Steinberg recording products and Nexo commercial audio products, as well as AV receivers, amplifiers, Blu-ray/CD players, iPod docking systems, home-theater-in-a-box systems, earphones, headphones, sound bars, and its exclusive line of Digital Sound Projectors. YCA markets innovative, finely crafted technology and entertainment products and musical instruments targeted to the hobbyist, education, worship, professional music, installation and consumer markets.