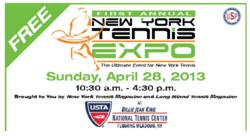 Wantagh, NY (PRWEB) April 11, 2013
Long Island Tennis Magazine and New York Tennis Magazine have assembled an incredible slate of speakers for the First Annual New York Tennis Expo, set for Sunday, April 28 at the USTA Billie Jean King National Tennis Center in Flushing Meadows, N.Y. Both Speaker Sessions will be headlined by world renowned Coach Nick Bollettieri and will feature former world top 10 player Tim Mayotte. Serving as emcee and moderator for both Sessions will be news anchor and political commentator Sean Hannity.
Space will be limited for these Sessions and bracelets will be given out for those looking to attend the panels on a first-come, first-serve basis on the day of the Expo. Attendees will be able to sign up and get their bracelets at the registration table. Please arrive early at the event to secure your spot for the Speaker Sessions as space will be sure to fill up quickly. Doors will open and the Expo begins at 10:30 a.m.
Nick Bollettieri
Nick Bollettieri is one of the most influential people in the world of tennis, and a legend who has transcended the sport. In 1978, he founded the Nick Bollettieri Tennis Academy, now known as the IMG Academy Bollettieri Tennis program, in Bradenton, Fla. IMG Academy was the first full-time tennis boarding school to combine intense training on the court with a custom-designed academic curriculum. What was once a program of primarily on-court training, has evolved into a multi-faceted approach which includes blending technical and strategic on-court training with specialized performance physical training and mental conditioning. The Bollettieri approach is designed not only to build athletes on the court, but more importantly, prepare them for a successful life off the court as well. It was this proven method that Nick used to coach 10 number one players in the world, including Andre Agassi, Boris Becker, Jim Courier, Martina Hingis, Jelena Jankovic, Marcelo Rios, Monica Seles, Maria Sharapova, and Venus and Serena Williams, as well as a multitude of other world-class players, including Tommy Haas, Anna Kournikova, Jimmy Arias and Nicole Vaidisova, to name a few. IMG Academy quickly became synonymous with tennis excellence and its coaches and students continue to reflect Nick's passion for excellence and the game.
Tim Mayotte
Tim Mayotte was one of the United States' best tennis players during the 1980s. Twice during the 80s, he finished the year ranked in the world's top 10. Over the course of his career, he has recorded wins over the greatest players of his era, including Pete Sampras, Andre Agassi, Jimmy Connors, John McEnroe, Boris Becker, Stefan Edberg and others. Besides reaching the semifinals of Wimbledon and the Australian Open, he also won a Silver Medal in the Olympics and represented his nation in Davis Cup action. For the last decade, Tim has shifted his focus to developing top American players and is currently running 360 Tennis at the Cunningham Tennis Center with his partners, Lee Hurst and Carl Thorsen.
Sean Hannity
Sean Hannity joined Fox News Channel (FNC) in September 1996. He currently hosts his self-titled program, "Hannity" (Monday-Friday, 9:00 p.m.-10:00 p.m. ET). He is one of the most prominent and influential conservative voices in the country and his program offers a mix of news, commentary, interviews and branded segments, such as the Great American Panel—made up of three nightly in-studio guests from across the political spectrum to discuss the issues of the day. Known for his provocative style free-wheeling, passionate commentary on politics and the American agenda, Hannity has become one of the most popular radio personalities nationwide as the host of ABC Radio Networks' "The Sean Hannity Show," syndicated to more than 500 stations and heard in all of the top 50 markets with a loyal listener base of 13.5 million.
Also scheduled to appear at the First Annual New York Tennis Expo: Howie Arons, Clay Bibbee, Tom Clear, Dr. Tom Ferraro,Tina Greenbaum, LCSW, Jay Harris, Steven Kaplan, Lawrence Kleger, Whitney Kraft, Cory Parr.
About New York Tennis Magazine and Long Island Tennis Magazine
New York Tennis Magazine and Long Island Tennis Magazine are the Ultimate Guides to Tennis as well as the official USTA publications in their respective regions. The publications are designed to promote and develop the sport of tennis on every level in the communities. Each issue provides news and insight into our growing sport by reporting on the people, events and trends that shape the sport of tennis in New York and Long Island. The goal at New York Tennis Magazine and Long Island Tennis Magazine is to work with tennis clubs, retailers and industry partners to best inform the readership on what's happening in the local tennis community and around the tennis world nationally. The mission of New York Tennis Magazine and Long Island Tennis Magazine is to recognize, support and encourage local tennis players, as well as the businesses and industries that support them and their families, toward the common goal of celebrating the great sport of tennis and promoting the expansion of the sport to interested parties looking to become part of the community. The publications provide a platform to reach the tennis world.