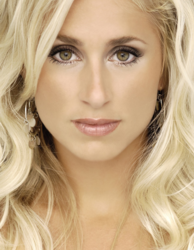 Buda, TX (PRWEB) April 19, 2013
Advanced Mobility Systems of Texas is hosting two concert tour stops by Nashville recording artist Michelle Murray at its locations in Buda on Thursday, April 25th and Mesquite on Friday, April 26th.
The stops are part of the "My Finish Line" music and movie tour, which shares the story of Sam Schmidt, an Indy Car driver who was paralyzed in a crash on the track in 2002. Much of the film takes place on the racetrack, where Sam continues to live his passion for the sport of INDYCAR racing despite suffering a crash that left him paralyzed. In the years since his accident, Sam has not slowed down and continues to approach life with more energy than ever.
Michelle Murray was so inspired by Sam when she met him that she wrote a song called "It Won't Be If, But When" about Sam and his inspirational spirit. She has since become a spokeswoman for the Sam Schmidt Paralysis Foundation, which exists to find a cure for paralysis.
The "My Finish Line" tour, sponsored in part by BraunAbility, will reach 50 states and over 120 cities, much of it matching the 2013 IZOD INDYCAR racing schedule. The movie will premiere at 17 locations, and will be promoted during 14 INDYCAR race weekends. Michelle will be making over 60 live music performances along the way as well.
During the performance at Advanced Mobility Systems, Michelle will perform a 20-minute music set and will hold a meet and greet with attendees, who can also pick up a free "The Finish Line" DVDs.
The performance and the movie will offer encouragement and inspiration to persons with disabilities – especially those dealing with the challenges of a life-altering injury or illness.
For more information, please visit Advanced Mobility Systems.