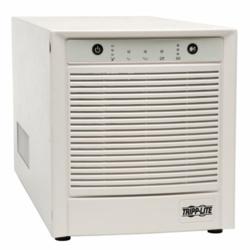 The high load capacity meets the power needs of today's demanding medical equipment while the isolation feature reduces patient shock risk.
Chicago, IL (PRWEB) April 11, 2013
Tripp Lite, a world-leading manufacturer of power protection and connectivity solutions, expands its healthcare line with the introduction of a new high-capacity UPS system. The SMART2500XLHG UPS system is designed to protect sensitive medical equipment in patient care areas from damage and data loss while providing full UL 60601-1 compliance for patient shock protection.
The SMART2500XLHG UPS system offers a 2200VA/1920W load capacity, the highest of any Tripp Lite medical-grade UPS system to date. It features full line isolation and leakage current reduction to less than 100 microamps for optimal safety in patient care areas. Full isolation also provides continuous noise filtering and enhanced common mode surge suppression to safeguard equipment. The SMART2500XLHG UPS is ideal for clinical labs, diagnostic imaging, ophthalmology, medical equipment, and other devices requiring medical-grade protection and leakage current reduction.
Key Features and Benefits

High capacity supports loads up to 2200VA/1920W
UL 60601-1 3rd edition compliant
Full line isolation prevents shock potential and operational problems in sensitive electronic equipment
Reduces cumulative leakage current to less than 100 microamps
Advanced automatic voltage regulation corrects brownouts and overvoltages without using battery power
USB and DB9 communication ports work with included PowerAlert software to enable remote monitoring and control
NEMA and IEC C13 outlets for universally adaptable outlet options
"Our new medical-grade UPS system is an ideal complementary power protection solution for ultrasound machines and other diagnostic equipment," said Molly Jantzen, Tripp Lite Director of Healthcare Sales. "Best of all, the high load capacity meets the power needs of today's demanding medical equipment while the isolation feature reduces patient shock risk."
For more information on the new SMART2500XLHG, visit: Tripp Lite Medical-Grade UPS System.
To download product images, go to: SMART2500XLHG images.
About Tripp Lite
Outstanding product reliability and exceptional service have been Tripp Lite trademarks for over 90 years. Tripp Lite's innovations include the world's first UPS system designed specifically for personal computers, and the world's most trusted premium surge suppressor--the Isobar®-with more than 19 million in use. Tripp Lite maintains the highest level of ready-to-ship inventory in the industry with more than 2,500 different products, including UPS systems, rack systems and cooling solutions, PDUs, PowerAlert software for enterprise-level system management and control, surge suppressors, KVM switches, cables and connectivity products, inverters, power strips and notebook accessories. Headquartered in Chicago, Illinois, Tripp Lite maintains a global presence with fully staffed offices worldwide. Additional information, including a list of Tripp Lite's sales offices and authorized reseller partners, can be found by visiting Tripp Lite's website: http://www.tripplite.com.