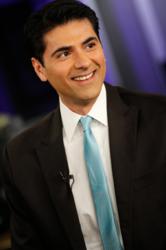 Instead of increasing the amount of drowsiness we're decreasing the amount of awakeness.
Beverly Hills, CA (PRWEB) April 12, 2013
La Peer's Sonu Ahluwalia, MD, appears on Good Day LA every Monday to speak on important topics in healthcare. This week, the board-certified orthopedic surgeon discussed a subject stirring fear in many Americans: the recent outbreak of H7N9, also known as the avian flu virus, in China.
"In China, a lot of these animals are slaughtered fresh," said Dr. Ahluwalia, who treats patients at La Peer Health Systems, an outpatient surgical center in Beverly Hills. "There are marketplaces where the most stringent health standards are not available."
Commonly known as bird flu, the H7N9 virus originates in domestic and wild birds and can cause flu-like symptoms and even death in humans. To date, the Chinese outbreak has resulted in 24 illnesses and 7 deaths. In response to questions about why these animal viruses are attacking humans in greater numbers, Dr. Ahluwalia explained that people in close contact with poultry could contract the virus through exchange of fluids during the slaughtering process.
"So far there has been no human-to-human transmission," said Dr. Ahluwalia, "But the concern is that the virus may mutate, and at some point that may be an issue."
In accordance with a CDC advisory, Dr. Ahluwalia recommends that physicians test patients who have recently traveled to China and are experiencing viral symptoms. Additionally, he advises viewers to be alert to the symptoms of bird flu.
"We just want to be a little careful," Dr. Ahluwalia said, suggesting that anyone with sore muscles, chills or other pneumonia-like symptoms visit a doctor for evaluation.
The board-certified surgeon also took the opportunity to discuss new developments in the treatment of sleep disorders. According to Dr. Ahluwalia, the old generation of sleep aids acted on brain receptors in a way that helped patients sleep but also affected their cognition and memory into the next morning.
With the new medications, "instead of increasing the amount of drowsiness we're decreasing the amount of awakeness," Dr. Ahluwalia reported.
The new sleep agent, known as DORA-22, is currently under evaluation by the FDA. In the mean time, Dr. Ahluwalia recommends that patients avoid distractions and stimulants at bedtime and try natural supplements like melatonin for occasional sleep issues.
Watch the entire news segment with Dr. Ahluwalia on My Fox LA.
For more health tips from Dr. Ahluwalia, as well as videos of his other FoxLA segments, visit his Facebook page.
Sonu Ahluwalia, MD, is an internationally-acclaimed board-certified orthopedic surgeon at La Peer Health Systems, as well as the Clinical Chief of Orthopaedic Surgery at Cedars Sinai Medical Center in Beverly Hills. His private practice specializes in sports medicine, shoulder, knee and hip surgery.
Dr. Ahluwalia completed his orthopedic training at the Harvard Combined Orthopaedic Surgery Residency Program in Boston, one of the most sought after training programs in orthopaedic surgery. He has completed three fellowships, two at Harvard Medical School and one at Lenox Hill Hospital in New York City, on shoulder surgery, sports medicine, and joint replacement and joint preservation surgery. For more information please call 310.659.2910 or visit http://www.Ahluwalia.org.