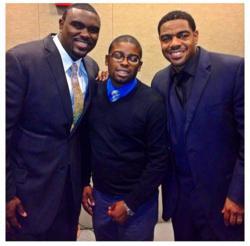 "I was really proud to be one of the corporate sponsors for this event." Marcus Bullock, CEO/Flikshop
Lanham, MD (PRWEB) April 12, 2013
Bring in the Community, the outreach organization powered by Flikshop, recently supported the launch of Young Doctors DC, a multi-generational mentoring and education initiative aimed at high school boys in Southeast Washington, DC, by serving as a corporate sponsor at a fundraiser on April 6th.
The fundraiser took place at the Washington Ballet Studio at THEARCH in Southeast Washignton, DC, and gave community members a chance to connect with the architects of the program, and even meet some of the "young doctors."
The program is the brain trust of Dr. Malcolm Woodland, director and founder of Young Doctors DC, and aims to encourage youth interest in medicine while simultaneously providing a service to the underserved area of Ward 8 in Washington, DC.
"I was really proud to be one of the corporate sponsors for this event," said Marcus Bullock, CEO of Flikshop. "Dr. Woodland is a brilliant man, and he did a great job with selecting an amazing team to work with him. These young people have bright futures, and they're proving how sharp the neighborhood really is…just given the chance."
In addition to supporting programs such as YDCC, Flikshop and Bring in the Community are committed to supporting inmate rehabilitation and prison reform. The ongoing efforts of both Flikshop and Bring in the Community aim to bridge the gap between inmates and the communities affected by their crimes.
About Flikshop:
Flikshop is a mobile application for Android and iOS designed to enable users to correspond with incarcerated loved ones in an easy and efficient manner. Flikshop and its outreach initiative Bring in the Community are dedicated to improving the lives of inmates and juvenile offenders through motivation and self-enrichment, as well as providing outreach to the communities affected by their crimes.