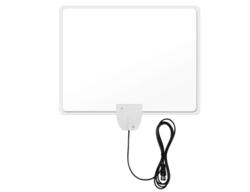 The Ghost Antenna looks more like a piece of paper than an antenna.
Orem, UT (PRWEB) April 13, 2013
With cheap video streaming services, more people are going away from cable and satellite television and using antennas to supplement their streaming service with live TV. This year it has been reported that five million homes have cut cable. The reasons are clear: cable is expensive and can't offer the plethora of options that all of these streaming services have.
For those who want to supplement their video streaming service with live TV without adding extra cost, free over-the-air channels are the way to go, especially considering all of the new HD channels being broadcasted. In fact, broadcasted HD channels are a little clearer than their cable counterparts, since cable and satellite use slightly compressed signals. The problem is that most antennas are ugly and bulky. The Ghost Antenna by Sewell is a much more attractive option. And with a price tag of $24.95, consumers will pay almost the same price as they would for bulkier alternatives.
The Ghost Flat Antenna looks nothing like the common "rabbit ears" that most people are familiar with. In fact, it looks more like a piece of paper than an antenna. This new slim design makes the antenna thin and light enough to stick on a wall and be hidden behind drapes or paintings. It can even be painted to match the colors of the room where it's placed. This added mobility also allows users to place it higher up on a wall or window to improve reception, something that was implausible at best when using rabbit ears.
Not only can you hide it pretty much anywhere, it also works great. While it's not a good choice for those that live far away from any broadcasting towers, which is normal for any indoor antenna, for those in urban environments it worked exceptionally well. During testing it even worked better than some of the bigger antennas.
Overall the Ghost Antenna offers an attractive, affordable alternative to expensive cable services or bulky antennas.