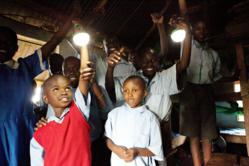 The recognition provides encouragement and support for innovators to pursue the goal of making a better life for the world's least fortunate.
WASHINGTON, D.C. (PRWEB) April 13, 2013
Nokero International has been awarded the 'Patents for Humanity' honor by the United States Patent and Trademark Office.
The award is designed to recognize patent owners who use creativity, design, and ingenuity to solve humanitarian problems domestically and abroad.
"It is a true honor to receive this award," said Nokero CEO Steve Katsaros, a patent agent and engineer who founded the company in 2010. "The recognition provides encouragement and support for innovators to pursue the goal of making a better life for the world's least fortunate."
Nokero received the award for its work using its patented solar lighting technology to replace harmful kerosene lamps, which are still widely used for lighting by the 1.3 billion people worldwide who live without electricity. The fumes from kerosene lamps emit 190 million tons of carbon dioxide into the air each year, and create respiratory and other health issues for those who burn them. More than 1 million people a year are killed in kerosene fires each year, and millions more are maimed or disfigured.
Nokero's lights are designed to replace kerosene lamps. They are not only cleaner and safer, but they provide impoverished families with an alternative to the daily expense of kerosene fuel, which can consume up to 30 percent of a kerosene user's income.
Nokero has created partnerships with businesses, governments, and NGOs throughout the world to bring the product to market according to the principles of social entrepreneurship. Patent protection has been critical to the company's success in forming sustainable economies in the small-scale solar trade.
"Patents provide motivation for investment, not only of dollars but also of time and hard work," Katsaros said.
The USPTO award is among several accolades and initiatives that have helped affirm Nokero as a leader in reducing energy poverty and increasing renewable energy use worldwide. The company has helped improved millions of lives and delivered products to more than 100 countries worldwide. Along with solar lights, the company also makes solar phone chargers and other products designed to reach those in impoverished regions.
About Nokero
Nokero (short for "no kerosene") is a social enterprise that makes solar light bulbs and other products that are primarily for use in the developing world, where 1.3 billion people without electricity use dangerous, polluting, and expensive kerosene lamps for light. Nokero lights have helped millions of families impacted by illness and injury created by kerosene fumes and fires. Kerosene is also expensive, accounting for of up to 20% of an impoverished family's income; Nokero is a leader in the global movement to relieve this financial burden and make small-scale solar affordable.
Nokero's technologies are often sold by local entrepreneurs: at hawker's markets in South Africa, through bread bakeries in Fiji, by boys on bikes in Nigera, by door-to-door saleswomen in Uganda, and through small hardware stores serving the 18,000 unelectrified Navajo households in the US. Since its founding in 2010, Nokero has already impacted millions of lives in more than 100 countries, and is working toward the goal of completely replacing kerosene lamps with solar-powered light.
About the USPTO's Patents for Humanity project
Patents for Humanity is an awards competition for patent owners and licensees. It is the USPTO's voluntary pilot program to recognize patent owners who apply their patented technology to address humanitarian needs. The program advances the president's global development agenda by rewarding companies who bring life-saving technologies to underserved people of the world, while showing how patents are an integral part of tackling the world's challenges.