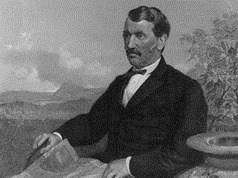 "It's off to Lake Tanganyika, Africa's deepest lake, which Livingstone helped map."
Denver, CO (PRWEB) April 12, 2013
A new African safari from Africa Adventure Consultants (AAC) has been named to National Geographic Traveler's "50 Tours of a Lifetime," featured in the magazine's May/June 2013 issue. "In Livingstone's Footsteps: The Final Journey" is one of four Africa safari itineraries created by AAC to honor the 200th anniversary of the birth of famed missionary explorer David Livingstone. "It's off to Lake Tanganyika, Africa's deepest lake, which Livingstone helped map, and Ujiji, where journalist Henry Morton Stanley encountered the ailing explorer in 1871 and famously remarked, 'Dr. Livingstone, I presume,'" says the magazine about The Final Journey, placing it in a context of adventures that push "beyond the boundaries of mainstream tourism, exploring the planet as never before."
"We're happy that National Geographic Traveler found our new trip as exciting as we do," says Africa Adventure Consultants co-founder and President Kent Redding. "The trip was a great fit with the magazine's focus on itineraries that allow travelers to experience historic explorers' adventures firsthand." The complete list of 50 tours is available on National Geographic Traveler's website at http://travel.nationalgeographic.com/travel/tours/africa-tours-2013/ or in the May/June print issue, available on newsstands April 17.
The "Final Journey" safari honored by National Geographic Traveler is one of a series of four "In Livingstone's Footsteps" itineraries custom-designed by AAC to honor the explorer's bicentenary, all of which are available year-round and integrate highlights from the explorer's history with African wildlife experiences:
The Early Years travels from Cape Town to Victoria Falls to Botswana's Mkgadikgadi Pans, including an overnight at a historic Cape Town warehouse-turned-luxury hotel, as well as the Livinstone Museum and town tour, Zambia game drives with zebra and wildebeest, river cruises and guided walks. Nine days, from $9,184 land only.
The Source of the Nile focuses on Tanzania, including a visit to the Livingstone Memorial near Lake Tanganyika commemorating the meeting of Stanley and Livingstone and trekking with wild chimps in Mahale. 13 days, from $9,987 land only.
Victoria Falls & Beyond travels to the famous falls, plus Chobe and other Botswana parks, including a stay at the David Livingstone Safari Lodge on the banks of the mighty Zambezi River. 10 days, from $7,228 land only.
The Final Journey follows in Livingstone's footsteps in Tanzania and Zanzibar where he spent many of his later years and from which his body was transported back to England for burial, including a historic walking tour of Stone Town, exploring Livingstone's lesser-known role as an anti-slave activist. 10 days, from $3,975, land only
Company Information: Africa Adventure Consultants is a leading safari company specializing in crafting custom itineraries to 13 countries in Africa, from classic photo safaris and adventure trekking to luxury honeymoons and family holidays. The staff at Africa Adventures Consultants has lived, worked, and traveled throughout Africa, giving them an insider's perspective on how to create the best safaris in the continent's top destinations. AAC offers personalized tour planning to Botswana, Egypt, Ethiopia, Kenya, Malawi, Mozambique, Namibia, Rwanda, South Africa, Tanzania, Uganda, Zimbabwe and Zambia. In addition to creating customized private journeys, AAC offers more than 20 group trips, including gorilla safaris in Uganda and Rwanda, Kilimanjaro climbs and migration safaris. For additional information, visit http://www.adventuresinafrica.com.
Media Contact: Darla Worden, WordenGroup Public Relations, darla(at)wordenpr(dot)com, 303.777.7667