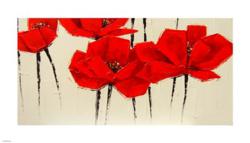 Delray Beach, FL (PRWEB) April 11, 2013
PosterNation.com continues to offer our customers the perfect gift choices for any celebratory event. The team at PosterNation.com created a list of the top five gift ideas for Mother's day. Framed art prints and posters make the perfect gift because they are unique and can be enjoyed for years to come. Art prints are also versatile, so online shoppers can find the perfect gift that matches their mothers' interests.
Top Five Mother's Day Gift Ideas
1. Floral Art Prints
Mothers, grandmothers or wives can enjoy their favorite flowers throughout the seasons with a customized framed art print.
2. Motivational Art Prints
Motivational art prints are available from PosterNation.com in a variety of themes and messages. Select a message that will resonate with gift recipient for a personalized Mother's Day gift.
3. Fashion Art Prints
Mother's who have a passion for fashion will love style-themed art prints. Women with an interest in classic beauty will also love posters of Hollywood glamour girls, such as Marilyn Monroe and Audrey Hepburn.
4. Scenic Art Prints
Mothers who enjoy traveling will love framed scenic art prints. For women who love the beach, a framed art print will give her an ocean view year-round. A variety of other poster themes, such as mountains, vineyards and cityscapes also make wonderful gifts.
5. Sports Art Prints
Many women love sports just as much as men. Whether she has a favorite sport or a favorite team, PosterNation.com has the perfect sports-themed poster for every mother.
About PosterNation.com
PosterNation.com offers thousands of high-quality framed art prints and posters featuring themes that include: sports, movies, music, pets, animals, travel, motivational topics, hot people, vintage celebrities and more. The frame shop allows customers to customize their purchase by selecting the cropping, matting, framing and glazing for a framed art print or poster. Please visit http://www.PosterNation.com for more information.