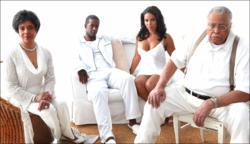 "Storytelling is a very strong tool; it is a way of giving purpose to what you're going through......and by having purpose, you're bringing hope and can lift your burdens." Artist Beatrice Coron (her 3D film Daily Battle will screen Opening Night June 11)
Los Angeles, CA (PRWEB) April 17, 2013
4th Annual New Media Film Festival June 11 & 12th at The Landmark Theatre Los Angeles is proudly accepting submissions until May 1, 2013 at http://www.NewMediaFilmFestival.com
Announcing early programming in STEAM, Web Series, Machinima & International Art Exhibit:
WEB SERIES - WOLFPACK OF RESEDA by Dir. Christopher Leone is about Ben March's mundane life is transformed when he becomes convinced he's been bitten by a werewolf loose in the suburban sprawl of Reseda. As strange events being to occur, Ben embraces his new "wolfman" identity wholeheartedly. Director Christopher Leone is a Los Angeles-based filmmaker with a background in visual effects and CG animation. Leone co-wrote and co-executive produced The Lost Room, a mini-series for Syfy produced by Lionsgate Television, starring Peter Krause, Julianna Margulies, and Kevin Pollak. Leone's short film K-7 screened at over 60 film festivals, including the Tribeca Film Festival and SXSW, and won 12 awards.
MACHINIMA - BATTLE OF BRITAIN by Dir. Barfly. This short action-filled Machinima movie about the first phase of the Battle of Britain, fought over the English Channel with heavy participation by Luftwaffe Stuka dive-bombers, sets the bar at the highest level yet for a movie created using the Cliffs of Dover (COD) flight simulator. The Director is from Finland and uses his Avatar name, Barfly
STEAM (Science, Technology, Engineering, Arts and Mathematics) THE PERIODIC TABLE TABLE - a Los Angeles Premiere by Dir. Kirk Zamieroski. Some people collect stamps. Wolfram Research co-founder and author Theo Gray collects elements. Step into his office, and you'll see a silicon disc engraved with Homer Simpson, a jar of mercury, depleted uranium shells and thousands of other chemical artifacts. But his real DIY masterpiece is the world's first 'periodic table table.' Within this masterfully constructed table-top lay samples of nearly every element known to man, minus the super-radioactive ones.
THE MAKING OF THE FITTEST: THE BIRTH AND DEATH OF GENES by Dir. Sarah Holt & Kirk Wolfinger. One of three short science films from Howard Hughes Medical Institute (HHMI) will unveil that use vivid storytelling to teach the vital concepts of adaptation and natural selection. The films, which were created to be used in classrooms, will premiere at the National Association of Biology Teachers annual meeting. This particular film deals with the topic, For life to survive, it must adapt and readapt to an ever-changing Earth. The discovery of the Antarctic icefish has provided a stunning example of adaptation in an environment both hostile and abundant, where the birth of new genes and the death of old ones have played crucial roles. Researchers Bill Detrich, Christina Cheng, and Art DeVries have pinpointed the genetic changes that enable icefish to thrive without hemoglobin and red blood cells and to avoid freezing in the icy ocean.
The winner of the STEAM category will receive two tickets to the SET Awards sponsored by Entertainment Industries Council Inc.
ARTISTS - BRENT ARMSTRONG, XAQUE GRUBER & JEFF FASANO ACCEPTED INTO INTERNATIONAL ART EXHIBIT to be held during 4th Annual New Media Film Festival.
Brent Armstrong has worked in the film industry as a makeup FX artist, sculptor, painter, mold maker and SAG puppeteer for over 35 years and now owns and operates his own sculpture studio, catering to the film industry as well as several galleries in LA & NY.
Xaque Gruber is a fine artist from Boston. He holds a BFA in Drawing from Pratt Institute, and has shown his work in galleries from Maine to the British Virgin Islands. He has been nominated for Massachusetts Art Teacher of the Year. A published author/illustrator, he works in Los Angeles as a writer for film, television, and online media including The Huffington Post.
Jeff Fasano is a well-respected photographer and author living in Los Angeles California. He has photographed Broadway theater, and a wide range of musicians, and Hollywood stars that include The Avett Brothers, Terrence Howard, Wilco, James Earl Jones, Conor Oberst, Phylicia Rashad, Blair Underwood, Quincy Jones, Morgan Freeman, Tommy Lee, Phoenix, Stephen Stills, Judy Collins. His work has been featured in Vogue, Time, Paste & Gotham magazines as well as major news outlets, record labels and Broadway productions
FOR MORE INFO, please visit http://www.NewMediaFilmFestival.com
PPV, Individual tickets and 2 Day VIP Festival Badges are on sale now.
Submissions accepted until May 1, 2013. Each submission is considered to screen in the State of the Art Theatre The Landmark in Los Angeles, be in competition for $45,000.00 in Awards and a considered for distribution opportunities.