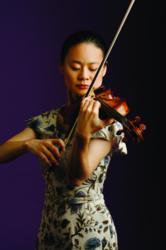 Baltimore, Md. (PRWEB) April 12, 2013
Gilbert Varga leads the Baltimore Symphony Orchestra and violinist Midori in Bartók's Second Violin Concerto on Thursday, April 25 and Friday, April 26 at 8 p.m. at the Joseph Meyerhoff Symphony Hall, and Saturday, April 27 at 8 p.m. at the Music Center at Strathmore. The performance also features Brahms' radiant Symphony No. 1. Please see below for complete program details.
Bartók composed his Second Violin Concerto for his dear friend and fellow Hungarian, violinist Zoltán Székely, in 1937 and 1938. The piece was written at the height of Bartók's career and right before the threat of the Nazis forced Bartók to leave behind his beloved homeland and seek refuge in the U.S. It is fitting that the Second Violin Concerto, which draws from Bartók and Székely's Hungarian roots, will be conducted by the talented Gilbert Varga, son of the celebrated Hungarian violinist Tibor Varga.
The piece showcases a unique collaboration between composer and musician, as Bartók gave in to Székely's requests for a standard three-movement work and followed his advice to "let the work end like a concerto, not a symphony". Bartók, however, also succeeded in satisfying his own desires for the piece by working numerous variations into the fold and bringing them to brilliant heights in the finale. The program will feature the second, more dazzling, ending that Bartók crafted for Székely, which will shine under Midori's "fierce concentration, delicacy of touch, and refinement of coloristic imagination" (The Boston Globe).
The program also includes Brahms' First Symphony, which was completed in 1876 after the composer poured two decades of labor into it. At the time, Brahms was already one of Europe's most renowned composers and had created masterpieces in a multitude of musical genres, excluding opera and the symphony. Brahms worried that his own symphonic contribution would be overshadowed by the work of his hero, Beethoven, but Brahms' First brilliantly transformed influences from Beethoven into a powerful and groundbreaking piece which lifted Brahms out of the shadows and into the spotlight of the symphonic world.
Gilbert Varga, conductor
Gilbert Varga studied under three very different and distinctive maestros: Franco Ferrara, Sergiu Celibidache and Charles Bruck. A commanding and authoritative figure on the podium, Varga is renowned for his elegant baton technique, and has held positions with and guest-conducted many of the major orchestras throughout the world.
Over the past decade, Varga's reputation in North America has grown rapidly, and the 2012-13 season sees his return to the symphony orchestras of Baltimore, Houston, Atlanta, St. Louis, Colorado and Utah, among others. In Europe, Varga regularly conducts the major orchestras in musical centers such as Berlin, Leipzig, Frankfurt, Cologne, Budapest, Lisbon, Brussels and Glasgow, with soloists such as Mørk, Ehnes, Vinnitskaya, Hamelin and Gerstein. Highlights of the 2012-13 season include his return to the Gurzenich Orchestra, Berlin Konzerthausorchester and Royal Scottish National Orchestra.
In the earlier part of his conducting career Varga concentrated on work with chamber orchestras, particularly the Tibor Varga Chamber Orchestra, before rapidly developing a reputation as a symphonic conductor. He was Chief Conductor of the Hofer Symphoniker between 1980 and 1985, and from 1985 to 1990 he was Chief Conductor of the Philharmonia Hungarica in Marl, conducting their debut tour to Hungary with Yehudi Menuhin. In 1991 Varga took up the position of Permanent Guest Conductor of the Stuttgart Chamber Orchestra until 1995, and from 1997 to 2000 was Principal Guest Conductor of the Malmö Symphony. From 1997 to 2008, Varga was Music Director of the Basque National Symphony Orchestra, leading them through 10 seasons, including tours across the UK, Germany, Spain and South America.
Midori, violin
Since her debut at the age of 11 with the New York Philharmonic 30 years ago, the violinist Midori has established a record of achievement which sets her apart as a master musician, an innovator, and a champion of the developmental potential of children. Named a Messenger of Peace by United Nations Secretary-General Ban Kimoon in 2007, she has created a new model for young artists who seek to balance the joys and demands of a performing career at the highest level with a hands-on investment in the power of music to change lives.
In 1992 Midori founded Midori & Friends, a non-profit organization in New York, which brings music education programs to thousands of underserved children each year. Two other organizations, Music Sharing (based in Japan), and Partners in Performance (based in the US), also bring music into the lives of people who may not otherwise have involvement with the arts. Her commitment to community collaboration and outreach extends beyond these foundations to her work with young violinists in master classes all over the world, to her Orchestra Residencies Program, and to her positions as Distinguished Professor, Jascha Heifetz Chair and Chair of the Strings Department at the University of Southern California's Thornton School of Music. Visit http://www.GoToMidori.com.
COMPLETE PROGRAM DETAILS:
Thursday, April 25, 2013 at 8:00 p.m. – Joseph Meyerhoff Symphony Hall (JMSH)
Friday, April 26, 2013 at 8:00 p.m. – JMSH
Saturday, April 27, at 8:00 p.m. – Music Center at Strathmore
Gilbert Varga, conductor
Midori, violin
Bartók: Violin Concerto No. 2
Brahms: Symphony No. 1
Tickets range from $29 to $64 and are available through the BSO Ticket Office, 410.783.8000 or BSOmusic.org.
###