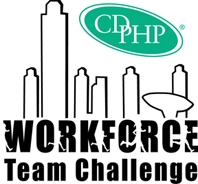 Albany, NY (PRWEB) April 12, 2013
With one month to go, there's still time to register for the 2013 CDPHP® Workforce Team Challenge – the largest annual road race between Utica and New York City. The race steps off at 6:25 p.m. Thursday, May 16 on Madison Avenue in Albany, in front of the New York State Museum.
As you train, here are some important safety tips:

Check with your doctor to make sure you have medical clearance.
Remember to warm up and cool down for 5 to 10 minutes. Stretch after your cool down.
Breathe! Beginners should take the "talk test." You should be able to speak in full sentences without gasping for air.
Wear the appropriate walking/running shoes. Experts at a specialty running store can help determine what will work best for you.
Avoid injury, aches, and pains by following proper running form.
On the day of the race, follow these tips to ensure a fun – and successful – run.

Don't eat a heavy meal an hour or less before the race. It's best to have a healthy snack of less than 200 calories.
Since this is an evening race, be sure to eat a good breakfast and lunch. Plan to eat the larger meal at least four hours before the race, with about 80 percent of the calories coming from carbohydrates.
Don't overdress. Dress for warmer temperatures so you don't overheat during the race. If it is cool, dress in layers.
If you have medical issues and you normally wear an ID bracelet, be sure to have it on during the race.
Plan ahead and know where to meet your team (or friends/family) after the race.
Line up properly. If you are a walker or a new runner, or generally run at a fairly slow pace, position yourself at a distance from the start line. If you are unsure, ask other racers around you what their anticipated pace is.
Take advantage of the water stations on the course.
The event is organized by, and serves as the major fundraiser for, the Hudson Mohawk Road Runners Club (HMRRC). The funds raised help underwrite many of HMRRC's activities and services. HMRRC supports running in the Capital Region through grants, college scholarships and the JustRun Program, which promotes youth running in our schools. Race proceeds also benefit one or two nonprofit organizations chosen by the club each year. This year, HMRRC has selected the Double H Ranch and Capital District Community Gardens as the race's charities of choice.
For training assistance, check out CDPHP® InMotion, a free fitness tracking site that is available online or on-the-go with the InMotion mobile app. Participants can also share their experiences on CDPHP's Facebook Event page and on Twitter using #WFTC13.
The 3.5-mile race is open to teams of employees from corporations, businesses, government agencies, educational institutions, not-for-profit corporations, and financial institutions. Runners, joggers, and walkers of all fitness levels are invited to participate. Registration ends on May 3.
About CDPHP®
Established in 1984, CDPHP is a physician-founded, member-focused and community-based not-for-profit health plan that offers high-quality affordable health insurance plans to members in 24 counties throughout New York. CDPHP is also on Facebook, Twitter, LinkedIn and Pinterest.
About the Hudson-Mohawk Road Runners Club (HMRRC)
The Hudson-Mohawk Road Runners Club is the Albany area's largest running organization. The club was formed in 1971 and today has nearly 3,000 members who come in all shapes and sizes and from all walks of life, as well as different running styles and speeds. Members are united in their love of running and desire to promote and participate in quality races and running-related activities. The club organizes more than 30 running events a year from a mile to a marathon at many different locations throughout the Capital District. These events offer something for everyone, novice and veteran alike.