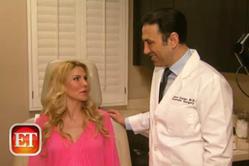 Los Angeles, California (PRWEB) April 11, 2013
According to a March 21, 2013 article published by Allure magazine, even at the age of 71, Martha Stewart has a knack for keeping her skin and body looking young and healthy by following a strict health and beauty regimen that she recommends to women of all ages. Despite never being a vocal supporter of plastic surgery, Martha admits to having undergone various treatments including Botox and Juvéderm (Go to: goo.gl/3lPHo).
"Martha certainly has her routine down," says Simon Ourian, Medical Director of Epione Beverly Hills. "A lot of what she does makes good sense, though I can't say that I understand her statement about Botox. Done properly, Botox injections won't give someone a quizzical look."
According to Dr. Ourian, Martha is right to maintain a specific place in her beauty regimen to care for her hands. "Unfortunately," says Dr. Ourian, "massage and moisturizing won't likely to do much to address lost volume or age spots." Dr. Ourian's hand rejuvenation technique was featured in an Entertainment Tonight segment shot with Real Housewives of Beverly Hills' Brandi Glanville.
"In the end, of course, I respect the decision of Martha, and anyone else, to forego medical aesthetic treatments," says Dr. Ourian. "As I mentioned previously, I believe that Martha's comment on Botox is somewhat misguided. The goal of all the minimally invasive treatments we offer at Epione is to provide natural-looking results. We've not done our job properly if someone looks 'done' or they leave our office with a permanently quizzical look on their face."
Dr. Ourian has been a pioneer in laser technology and non-invasive aesthetic procedures including Restylane, Juvéderm, Radiesse and Sculptra. These treatments are used for the correction or reversal of a variety of conditions such as acne, acne scars, skin discoloration, wrinkles, stretch marks, varicose veins, cellulite, and others. More information about Martha Stewart's beauty routine can be found on Epione's website.