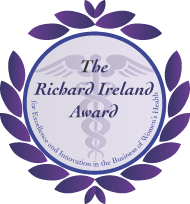 National Harbor, MD (PRWEB) April 12, 2013
The World Congress Leadership Summit on the Business of Women's Health is pleased to announce Melinda Birdsall, MD, FACOG of Merrimack Valley Hospital is the recipient of the 2nd Annual Richard Ireland Award for Excellence and Innovation. The prestigious award was presented this week at the 4th Annual Summit in National Harbor, MD.
About the Award:
This award recognizes an individual that has advanced the business of women's health services in their community, network or nation-wide. Nominees must be an individual actively working within a women's service line who has advanced women's health in their community, network or in the USA in the field of technology innovation, program development, research, access to care or the reduction of disparities. For more information about the award, please visit http://www.worldcongress.com/women.
About the Winner:
Dr. Birdsall is a board-certified obstetrician/gynecologist with over 20 years of experience in the care of women. Her practice offers a broad scope of gynecological services; however, she is recognized for her expertise in advanced minimally invasive procedures such as laparoscopic hysterectomy and pelvic reconstructive surgery. She has co-authored multiple publications, and has lectured extensively on contraceptive management as well as menopausal heath and hormonal therapy. She also appeared recently as a medical expert on local cable TV. Dr. Birdsall has also served as Assistant Clinical Professor of Obstetrics and Gynecology as Tufts University School of Medicine as well as Adjunct Clinical Professor of Obstetrics and Gynecology at Boston University School of Medicine. She has been recognized by Boston Magazine as one of Boston's "Top Doctors." She also appears in "Who's Who of American Women" and "America's Top Ob/Gyns."
In 2012, Dr. Birdsall left academic medicine to fulfill her passion of providing women of all socioeconomic backgrounds access to quality health care. She is currently developing a comprehensive gynecology program in the Merrimack Valley, which is a diverse, underserved community north of Boston. She also holds two elected positions within the Steward Health Care Network.
About World Health Care Congress Leadership Summits
The World Health Care Congress Leadership Summit Series addresses the most cutting edge issues for health care executives across a wide range of industry sectors. Designed to expand on topics discussed at invitation-only summits during the World Health Care Congress, this series offers new perspectives on established methodologies, and details solutions to foster innovation and change. http://www.worldcongress.com