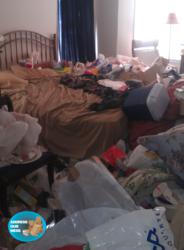 "Starting over after solving your hoarding problem can be difficult. By keeping these simple tips in mind, a cleaner, safer home will be a true reflection of the person you are inside."
Mount Laurel, New Jersey (PRWEB) April 12, 2013
According to Randy Frost and Gail Steketee, co-authors of Stuff: Compulsive Hoarding and the Meaning of Things, hoarding massive amounts of irrelevant objects dates back to the 14th century. Within the last several years hoarders have reluctantly taken their place in the national spotlight with tell-all documentary series like A&E's Hoarders. After so many decades and centuries of shamefully hiding behind their heaps of mess, hoarders have yet to find solace in knowing there may be a cure for their condition.
The game is changing May 2013 when the American Psychiatric Association releases their fifth edition of the Diagnostic and Statistical Manual of Mental Disorders, Dsm-5 (available May 3, 2013, ISBN 10: 0890425558). The significance of this release marks the APA's first acknowledgement that Hoarding stands as a category on its own in the world of psychiatric disorders.
What does this mean for hoarders and the loved ones who are forced to watch them suffer amidst mounds of clutter and mess? Credible psychiatrists and psychologists in the mental health field are finally acknowledging and addressing this very serious condition. Address Our Mess, clutter cleaning specialists who help dozens of hoarders on a monthly basis take the first step to a healthier lifestyle, have found that between 2-5% of the US population suffers from various stages of the hoarding condition. Based on data gathered by the US Census Bureau in 2011, this means anywhere from 6.2 million to 15.6 million people live in deplorable conditions in their own homes around the country.
Helping hoarders and senile squalors has become the specialty of Josh Rafter, Co-Owner and Hoarding Specialist at Address Our Mess. "With over ten years of experience helping hundreds of hoarders with their condition, I understand how stressful and difficult it is to dispose and get rid of the items (they've accumulated)," says Mr. Rafter. "I applaud hoarders and their loved ones for getting help."
Since hoarding is in its earliest stages of being identified as an actual mental condition, credible data on the matter is hard to come by. Address Our Mess research shows that the majority of hoarders are men over the age of 40. However, women are more likely to seek help either for themselves or for a loved one. Therefore the rate of a successful transition to a healthier lifestyle is higher with women than men.
It has also been noted by Address Our Mess experts that the hoarding condition is usually brought on after a traumatic event like death of a loved one, loss of a job, or eviction from a home. The condition gradually gets worse as time progresses. And time is, unfortunately, on the side of the hoarder. In most cases, Josh Rafter and his team of specialists found that hoarders have secluded themselves from family and friends, allowing their hoard to grow without notice or intervention. Hoarding specialists are usually called in to help when the situation has become unhealthy, unsanitary and out of control.
Along with various other tips on how to help a hoarder get the help they need to live a healthier life, Mr. Rafter offers the following advice.
Build a Bond - Connecting with the hoarder assists the helper with understanding the hoarder's emotional connection with objects they've hoarded. They will trust that the helper will be there with them throughout the cleanup process and beyond.
Call on the Professionals – Contact a hoarding specialist to start the first step of the healing process. Also, consult with therapists who specialize in hoarding who will ensure the success of the project from start to finish.
Safety – Identify the safety and health hazards present in the hoarder's home and help them understand why dealing with the problem immediately will only help living conditions improve.
Confidentiality – Hoarding clean up services promote confidentiality. Most hoarders feel shame when they know others have become aware of their condition. The process is a highly private, intimate project. Use of unmarked vehicles, inconspicuous clothing and equipment, and mum mannerisms are all important traits of a clutter cleaning service.
Urge Donation – By stressing the importance of donating items, hoarders feel better about parting with objects they have become attached to. Donation helps hoarders realize their unwanted items will be better used elsewhere.
After the release of the American Psychiatric Association's Dsm-5 in the coming weeks, Address Our Mess expects an influx of hoarders ready to make a difference in their own lives. Mr. Rafter offers the following advice to hoarders. "Starting over after solving your hoarding problem can be difficult. By keeping these simple tips in mind, a cleaner, safer home will be a true reflection of the person you are inside."