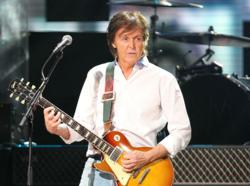 Denver, Colorado (PRWEB) April 12, 2013
Tickets to Paul McCartney's upcoming concerts in Texas, Oklahoma and Washington D.C. went on sale today. As expected, search traffic for seats soared off the scale.
Considered the greatest recording artist of all time, the former Beatle shows no signs of slowing down. At the ripe young age of 70, he's coming off another stellar year. He's now on tour in Brazil, and he's got a new album in the works.
Last year, he wrapped On the Run, another successful global trek. He released his Grammy Award-winning 'Kisses On The Bottom' album. He performed at both the Diamond Jubilee and the Olympics Opening Ceremony. And, he headlined the 12-12-12 Concert For Sandy Relief.
But that was yesterday. This year, his Out There Tour is scheduled to travel the world, visiting places of historical significance to the artist and new spots of interest – with enough room in the schedule to add concerts later on.
To open the stateside leg of his tour, he will be returning to Orlando for the first time since his 1993 New World Tour for a show at the Amway Center on May 18.
Then, he performs at the Frank Erwin Center in Austin, Texas on May 22; the Fedex Forum in Memphis, Tennessee on May 26; and the Bank of Oklahoma Center in Tulsa, Oklahoma on May 29. Next is an appearance at the Bonnaroo Music and Arts Festival in Manchester, Tennessee on June 13, followed by a concert at the Arena Di Verona in Verona, Italy on June 25.
On Tuesday, July 9, Paul will play Boston's Fenway Park, returning by popular demand for the first time since his August 5 and 6, 2009 shows set the record for the highest two-day concert attendance in the history of the ballpark. A show at Nationals Park in Washington D.C. is next on July 12, followed by a tentative U.S. wrap at Safeco Field in Seattle, Washington on July 19, 2013.
"Paul McCartney tickets always sell out," said Felina Martinez at online ticket marketplace BuyAnySeat.com.
"Although many of his upcoming venues are already officially sold out, we still have a complete and continuously updated inventory of tickets for fans to choose from – along with a worry-free guarantee to protect their purchase," said Martinez.
"To access the complete selection of cheap Paul McCartney tickets we now have available, customers can go to BuyAnySeat.com and search for Paul McCartney – then select their tickets," said Martinez.
As with previous tours, this year's effort will feature his band of over ten years, including Paul 'Wix' Wickens (keyboards), Rusty Anderson (guitar), Abe Laboriel Jr. (drums) and Brian Ray (bass/guitar). Plus, of course, fans can expect material from one of the most beloved catalogs in popular music, with Paul performing songs spanning his entire career -- as a solo artist, member of Wings and, of course, The Beatles.
McCartney's latest road trip also extends a streak of annual tours that goes back to 2009, when he broke a four-year road absence with his 10-date Summer Live tour. It was followed by Good Evening Europe in 2010, the Up and Coming tour in 2010-11, and On the Run in 2011-12.
McCartney also plans to put the finishing touches on his first solo album since 2007′s Memory Almost Full. And, he is expected to release an expanded edition of his 1976 live album, Wings Over America.
Guinness World Records describes McCartney as the "most successful composer and recording artist of all time", with 60 gold discs and sales of over 100 million albums and 100 million singles. Inducted into the Rock and Roll Hall of Fame in 1999,
McCartney has written, or co-written 32 Number One singles on the Billboard Hot 100. His 1965 Beatles song "Yesterday" is the most covered song in history with 2,200 recorded versions. (Source: wikipedia.org)
To shop for cheap Paul McCartney tickets, visit BuyAnySeat.com.
About BuyAnySeat.com: An online ticket marketplace, BuyAnySeat.com connects sports, theater and other live entertainment fans to an extensive worldwide network of ticket sellers. The site's simplified listings and navigational tools enable fans to easily locate, compare and purchase inexpensive, discounted or lower-priced tickets to virtually all advertised sports and entertainment events around the globe.
The online marketplace, which is PCI-compliant and Norton Secured, also provides customers with a complete Worry-Free Guarantee on all ticket purchases. Based in Denver, Colorado, BuyAnySeat.com is a subsidiary of Denver Media Holdings. For more information, please visit http://buyanyseat.com.