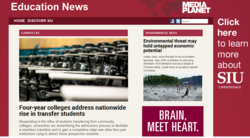 "Supplementing book learning with research experience – that is what is going to get kids jobs."
New York, NY (PRWEB) April 12, 2013
A study by the U.S. Department of Education has determined that about 90 percent of new community college attendees plan on obtaining a formal credential in the form of an associate's degree and that many will go on to pursue a bachelor's degree after transferring to a four-year college. Mediaplanet has launched a new digital campaign that calls attention to the quickly evolving student body at national 4-year universities as transfer acceptance rates skyrocket. Unifying both industry experts and staff at colleges like Southern Illinois University, the campaign further reveals how the state of the economy has played a role in reshaping the student landscape at U.S. universities, as schools scramble to accommodate these students and to streamline the transfer process.
Stephen Handel, executive director of community college initiatives for the College Board, is responsible for providing a clear path to successfully transferring credits from community colleges to four-year institutions. "While traditional students are still obviously important, more schools are looking towards community college students," says Handel. Four-year institutions should be reaching out to community college students directly in order to facilitate the students' smooth transition.
Transfer students are expected to continue to make up a growing portion of the four-year college community. If four-year schools have not yet figured out how to facilitate a smooth transition for these students, they will need to do so soon. The enrollment is expected to get another large boost from President Barack Obama, who has declared his intention to produce 8 million new college graduates by 2020.
The special digital section also examines how U.S. universities have restructured their curricula to better prepare students to face adverse economic conditions and limited job prospects as they enter the workforce. In such a competitive job market, more students are looking towards the unique opportunities offered by research universities. Not only does a research university provide students with valuable hands-on experience that expands their career options; it also allows them to contribute to the society's brighter future. According to David Lightfoot, a professor of agriculture at SIU, "participating in your career and supplementing book learning with research experience – that is what is going to get kids jobs."
Click to read more Education News.