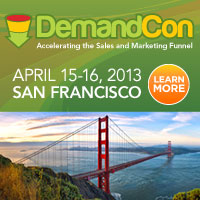 Academics, consultants and practitioners from around the world will be demonstrating how sales and marketing can work together with practical, workable solutions to deliver positive business results. -Shawn Elledge, CEO, DemandCon
St. Louis, MO (PRWEB) April 12, 2013
Maritz Travel's Jim Ruszala, senior director of marketing, and Maurice Parisien, partner and marketing strategist with Digital Intersection, will discuss the strategy, process, tactical elements and key performance indicators that have led to the successful management of Maritz Travel's prospect nurturing program in their presentation, "Effective Nurturing through Alignment of Sales & Marketing," at DemandCon in San Francisco on Tuesday, April 16, 2013.
Ruszala and Parisien's session will provide a road map for designing and executing effective B2B prospect nurturing programs. Maritz Travel serves as a real-world example that supports the rationale of the strategy and tactics that make up successfully integrated online and offline prospect nurturing programs.
Ruszala is a published author and speaker on topics of loyalty, incentives, recognition and integrated marketing. He helps organization achieve improved performance through effective relationship and engagement strategies.
Parisien, author of "ALIGNED…A Story for Improving Sales and Marketing Effectiveness", published by Racom Books, Chicago, IL has more than 35 years consultative and management experience in sales and marketing with a concentration in database marketing.
Shawn Elledge, CEO of DemandCon had this to say this conference, "DemandCon is the only educational event focused on optimizing the complete sales funnel. Thought leaders, academics, consultants and practitioners from leading businesses around the world will be demonstrating how sales and marketing can work together as one highly functional team, with practical, workable solutions to deliver positive business results."
About Digital Intersection
Digital Intersection is in the business of delivering highly effective, customer-centric marketing strategies and tactics that integrate both online and offline marketing communications within the framework of right4(sm) to reach the "right" audience with the "right" message and the "right" combination of online and offline channels at the "right" time to profitably achieve the stated marketing goals and objectives. For more information about Digital Intersection visit digitalintersection.com, or follow us on Twitter @digitalintersec and @mauriceparisien.
About Maritz Travel
Maritz Travel helps create exceptional experiences that inspire people to achieve extraordinary business results. By designing and executing innovative corporate events, meetings and incentive travel programs, we help transform businesses and people. We focus on individual business objectives to provide business meeting planning and group incentive trips that drive business results and improve customer, employee and channel partner engagement. For more information, visit maritztravel.com or follow us on Twitter @maritztravel.