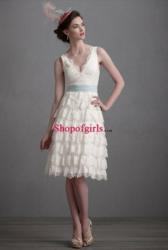 (PRWEB) April 12, 2013
Recently, Shopofgirls.com has proudly launched its bridesmaid dress promotion to show appreciation to all customers. The promotion is valid until April 30, 2013, and covers all its bridesmaid dresses.
Shopofgirls.com is a leading supplier of wedding dresses and other special-occasion dresses, specializing in designing and manufacturing all kinds of women's dresses. All their bridesmaid dresses are handmade by their expert designers and workers.
According to a senior sales manager of Shopofgirls.com, all the bridesmaid dresses are available now at discounted prices with 45-70% off. For example, one of the wedding shoes (model code: BD-50305), Princess Strapless Ruched Ruffles Knee-length Chiffon Royal Blue Bridesmaid Dress, was previously priced at $299, and it is offered at $109.
He adds, "Our bridesmaid dresses are popular for the gorgeous looks, trendy designs, and delicate craftsmanship, and Shopofgirls.com is absolutely a good place to buy all kinds of special-occasion dresses at acceptable low prices. For those who want to buy discount bridesmaid dresses, they should visit our website as soon as possible."
In addition, Shopofgirls.com is offering thousands of women's dresses at its online store, like cheap prom dresses, cheap homecoming dresses, wedding dresses, evening dresses, and, etc. They hope to give the market a stunning impression for its high-quality and trendy dresses at the lowest possible prices.
About Shopofgirls.com
Shopofgirls.com has a rich experience of 8 years in the manufacturing and retail of high-quality women's dresses, and its staff is divided into teams to help assist its clients who have specific dress needs. They have a vast knowledge of craftsmanship and consumer needs, and their products are streamlined into a system that checks and double checks quality, from sourcing to delivery.