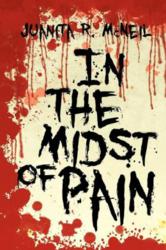 I have transformed from feeling inadequate, frustrated, pessimistic and completely down to being calm, secure, positive and more confident
Richland, WA (PRWEB) April 13, 2013
From suffering abuse as a child to currently battling blindness, Juanita McNeil has overcome many challenges in her life.
Though these hardships might keep many people down, they make McNeil strive to find the positives in life. At the age of 46, McNeil is currently attending school for her blindness caused by retinitis pigmentosa. Upon graduation from the Department for the Blind, she has plans to attend Columbia Basin College in Pasco, Wash. There she will study creative writing, technical writing, and copyright editing – fueling her lifelong passion for writing.
In the Midst of Pain is an inspirational guidebook McNeil composed detailing her journey from hopeless and helpless to ambition and positivity. Her raw memoir explores her trials and offers motivation to keep a positive life perspective and to find inspiration in spirituality.
"I have transformed from feeling inadequate, frustrated, pessimistic and completely down to being calm, secure, positive and more confident," says McNeil. "I now know that I have input in how my life unfolds and that I can control my own happiness."
McNeil believes that change and adversity is challenging but says that In the Midst of Pain reveals key insights from her personal experiences that will help readers improve their situations and fully embrace the joys of life.
In the Midst of Pain
ISBN: 978-1-47973-068-1
Available at: amazon.com, barnesandnoble.com and Xlibris online bookstores.
About the author:
Mother of three and grandmother of five, Juanita McNeil is currently going to school for her blindness and plans to pursue her passion for writing by attending Columbia Basin College in Pasco, Wash upon completion.