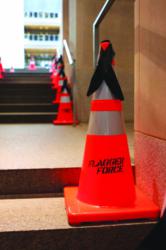 Put down the device, get off the phone and pay increased attention to signage and traffic control personnel.
Hummelstown, Pennsylvania (PRWEB) April 12, 2013
Flagger Force Traffic Control Services is proud to join the nationwide effort to bring attention to the safety of work zones during National Work Zone Awareness Week (NWZAW) in Washington, D.C., April 15 – 19. This annual event is held to honor those individuals who have lost their lives in work zones while increasing public awareness about work zone safety.
Distracted driving is a national concern, and nowhere is it more dangerous than in a work zone. Driving similar patterns every day, most Americans get lulled into a sense of complacency regarding their attention to roadway surroundings. When work zones are established, the driving patterns are changed for the driver and increased attention is required to keep workers and the public safe. "Put down the device, get off the phone and pay increased attention to signage and traffic control personnel," said Mike Doner, Vice President of Flagger Force. "We are working to improve your utility infrastructure or improve the roadway you are driving on, and to keep you safe while the work is occurring. Either way, we are working for you."
According to the Federal Highway Administration, there were more than 37,000 work zone injuries in 2010, and while not all involved motorists, many were the result of motorists who ignored work zone signage and failed to stop or slow down. With its theme, "Work Zone Safety: We're All in This Together," National Work Zone Awareness Week was created to put a spotlight on this serious issue.
Headed by the American Traffic Safety Services Association (ATSSA), the kickoff event for National Work Zone Awareness Week will be held at an urban work zone in Washington, D.C. on April 16. Emceed by Terry Bellamy, Director of the District of Columbia Department of Transportation (DDOT), the conference will feature Rep. John J. Duncan (R-Tennessee), Vice Chair of the Presidential Committee on Transportation and Infrastructure, and Federal Highway Administrator Victor Mendez as highlighted speakers.
In addition, Alice Ward, a Flagger Force employee who was seriously injured in a work zone last year by a motorist under the influence of narcotics, will be a guest speaker at the event. The devastating accident left Ward with a severely broken leg, a lacerated liver and kidney, along with a shattered pelvis and severe damage to both shoulders. She continues to receive physical therapy today and longs for the day when she will be able to lift her 8 month old granddaughter on her own. Her story is a somber reminder of how dangerous work zones can be and a powerful lesson in the importance of driver awareness.
"There's enough warning to let people know a work zone is ahead," Ward said. "Yet people often just fly by our stop signs."
Ward's message to motorists is to be more aware of people and signage in work zones. Flagger Force promotes the slogan "Stay Alert, Stay Alive", which also puts the focus on the need for workers to be alert for motorists who may not always obey signage.
To honor those who have lost their lives in a work zone, Flagger Force will place 50 orange safety cone luminaries topped with black memorial ribbons in downtown Washington, D.C. at an ongoing work zone site where the kickoff event for National Work Zone Awareness Week will be held. Flagger Force also sent more than 2,000 "Safety Driven" wristbands to its clients and employees as a daily reminder of the people who died within work zones across the country and of our Safety-Driven mission.
"National Work Zone Awareness Week is a time to remind everyone – both workers and motorists – about the dangers of traveling through a work zone," said Doner. "When motorists come upon work zone signage, the tendency is to become annoyed, impatient, or to disregard the signs altogether. Everyone just needs to take a breath and remember these people are parents and neighbors, daughters and sons – all working hard to make a living protecting themselves, their coworkers and motorists."
Flagger Force, in business since 2002, is an industry leading full-service traffic control and work-zone safety provider with 850 employees. The company also maintains 450 vehicles, including pickups, pattern trucks, truck mounted attenuators and all necessary signage and equipment to serve the Mid-Atlantic region. For more information: http://www.FlaggerForce.com.