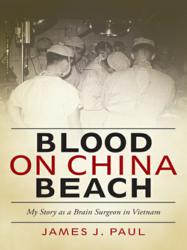 The year I spent in Vietnam was the single most significant thing I accomplished in my life, notwithstanding the 40 plus years of neurosurgery practice since
San Francisco, CA (PRWEB) April 13, 2013
Where most Vietnam memoirs end, Dr. Paul Pitlyk's just begins. Sharing his intimate emotions and dilemmas, Pitlyk chronicles his journey as a young brain surgeon on the front lines during the Vietnam War.
After completing his residency at the Mayo Clinic, Pitlyk began work in private practice neurosurgery. Despite his blossoming career, he felt as though he was lacking something that every surgeon needed – confidence in his skills and training. Following the call to service, Pitlyk decided to join the Navy and head to war with his medical experience in tow, eager to gain experience and knowledge.
As his helicopter descended on the gruesome scene of his future worksite, Pitlyk found that the temporary military hospital, Quonset Huts, had been blown up by the enemy. Forced to move to temporary tents and huts with inadequate supplies, Pitlyk struggled under seemingly overwhelming odds to perform brain surgery in this compromised environment.
"The year I spent in Vietnam was the single most significant thing I accomplished in my life, notwithstanding the 40 plus years of neurosurgery practice since," says Pitlyk.
A unique and raw look at medicine on the front lines, Blood on China Beach shows the ravages of war on young men, not only physically but also emotionally. Following his growth as a military veteran and surgeon, his memoir illustrates his reverence for life and his admiration for the bravery of the marines on which he operated.
Blood on China Beach
By Paul J. Pitlyk
ISBN: 9781475959451
Available at Amazon, Barnes and Noble, and iUniverse online bookstore.
About the author:
Dr. Paul Pitlyk graduated from St. Louis University School of Medicine where he then left for Rochester, Minn. to participate in the five-year program studying neurosurgery at Mayo Clinic. After operating in a private practice in Milwaukee, Wis., he joined the U.S. Navy where he was sent to Vietnam for one year as a neurosurgeon for wounded marines during the war. Upon his return, Pitlyk was assigned to work in the Naval Hospital in San Diego. He then returned to private practice for 40 years. Currently retired, Pitlyk is married with two children and lives in San Francisco Bay area.